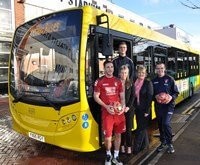 Premiership football team AFC Bournemouth has teamed up with Yellow Buses to drive safety lessons into schools.
The operator and the team's Community Sport's Trust have created the 'Soccer Safety School' which has already kicked off.
It is being taken to 20 primary schools across the conurbation and will use football to teach youngsters how to stay safe while playing.
Fiona Harwood, from Yellow Buses, said: "Yellow Buses delivers thousands of passengers to the Vitality stadium every game but we wanted to work more closely with the club.
"This opportunity allows us to do that by helping to bring a message of safety to the young people who live locally."
Steve Cuss, the club's Head of Community, has developed the programme which will run for a year and is expected to reach many hundreds of pupils.
He said: "Together with Yellow Buses, we are going to use football to bring fun safety lessons to schools.
"It includes highlighting the risks and dangers which children face when outside playing.
"These involve road safety, which is something that Yellow Buses is an expert in.
"We all want our children to be healthy and fit but we also want them to remain safe when they're playing.
"The Soccer Safety School is designed to engage the children in a fun way – and in all departments."
AFC Bournemouth star Dan Gosling is the 'player ambassador' for the project, and he helped launch it from a bus.
He said: "I am really excited to be a part of this amazing project.
"I spent so much of my childhood out playing football and it's important that today's children can enjoy the same experiences safely.
"I hope this project will go some way towards making sure that happens."