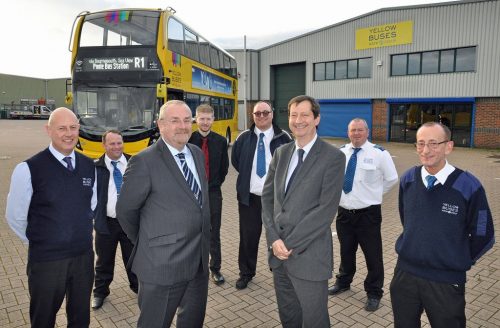 Bournemouth-based Yellow Buses has significantly expanded its operations by opening a new outstation in Poole – the first in its history.
The RATP-owned company added to its existing Yeomans Way located in Bournemouth with a mini-depot on Poole's Endeavour Business Park.
Buses started operating from the Witney Road site on Monday, November 13, with the first vehicle leaving at 0540hrs.
There are plans to eventually store up to 18 vehicles overnight.
The operator said its new outstation will allow it to expand its services in Poole, covering Hamworthy, Canford Heath, Creekmoor and Upton, as well as towns such as Wimborne, Blandford and Swanage.
It will also cut down on empty trips to Yeomans Way for services starting and ending in Poole and surrounding areas, and enable staff to be recruited over a wider area.
When fully operational, around 50 staff, mainly drivers, will be based at the new outstation, which will build up in phases over the coming six months.
David Squire, who was appointed as Managing Director of Yellow Buses in October, said: "This is a major development for us, offering significant opportunities to operate both more efficiently and smartly, and also become a platform for future growth.
"We have been looking for a suitable location in Poole for some time.
"This site on the outskirts of the town fits the bill perfectly and will put us in an excellent position to grow the business over the coming months and years."