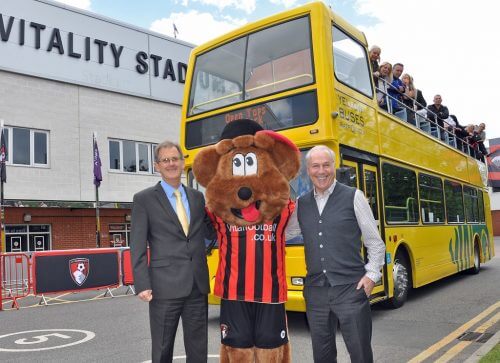 RATP-owned Yellow Buses' open-toppers have returned this month after a 10-year gap, and will operate on two routes.
The Bournemouth-based operator will start operating a new R2 open-top service between Bournemouth and Poole Quay, along with an hourly C1 open-top service linking Bournemouth and Alum Chine via Westbourne and West Cliff.
The Poole quay service will run every half hour daily, including public holidays, from Saturday, July 22 until Wednesday, August 30. The first bus leaves Bournemouth Square at 0920hrs (0935hrs from Poole Quay) and follows a route including Westbourne, Branksome, Upper Parkstone, Ashley Cross, Poole Hospital, Poole High Street and Poole Quay.
The journey will take 40 minutes, with the last bus departing Bournemouth Square at 1720hrs (1735hrs from Poole Quay).
The Alum Chine service will also operate daily, including public holidays, from Saturday, July 22, but end instead on Sunday, September 3.
The first bus from Bournemouth (Bourne Avenue) is at 0724hrs Monday to Friday (0745hrs from Alum Chine). The journey will take 20 minutes.
The new open-top service is in addition to the existing C1 service operating between Castlepoint and Alum Chine. As a result, the Bournemouth to Alum Chine stretch of the route will see two buses per hour from Mondays to Saturdays, plus a Sunday service from July 22 until September 3.
Andrew Smith, Yellow Buses' Managing Director, said: "We've had an amazing response since first announcing in May that our famous open-toppers will be back on the streets for the first time since 2007.
"We're delighted that not only are we able to bring the open-top experience to two of our routes but also, as we promised, the C1 will operate at a higher frequency during the peak summer period."
All day travel on Yellow Buses, including the open-toppers, costs £4 for an adult, £2.60 for a child, and £10.50 for a group ticket covering five adults or children travelling together.