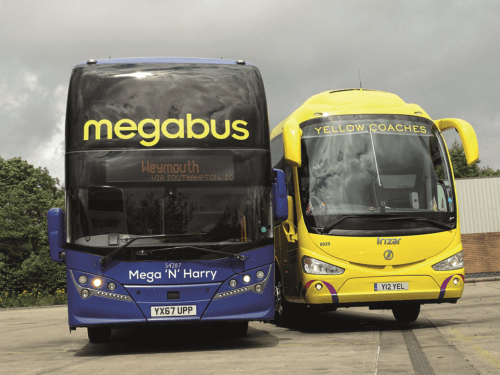 Loss of revenue, rising fuel prices and the general rise in inflation are some of the reasons being blamed for the 120-year-old Bournemouth Transport going into administration
Just seven days after celebrating 120 years of operation, it was announced on Friday 29 July that Bournemouth Transport, which trades as Yellow Buses and has an operators licence for 120 vehicles, and Yellow Coaches, which has an operators licence for 20 vehicles, have been placed into administration.
The company has been in independent ownership since 2 July 2019, when it was sold by owner RATP Dev to David Squire (its then Managing Director), Phil Pannell (Service Delivery Director) and Simon Newport (Commercial Director). Noel Smith is also listed as a current Director.
Simon Rowe and Rachel Hotham of Milsted Langdon LLP have been appointed as Administrators, and issued the following statement: "We recognise that many people rely on the Yellow Buses network for all sorts of aspects of their daily lives and that for them and the 300 staff employed by the business this is an unsettling time. We can recognise this and want to reassure everyone that we and our team are doing all we can to ensure that the business continues to operate as normal as possible under the circumstances and continues to do so into the future.
"Yellow Buses has just celebrated its 120th birthday and so it is an unfortunate time to be facing this uncertainty. However, like many transport businesses, Yellow Buses has suffered from the challenges of the Covid-19 period and the changes in lifestyle habits which have followed, with more people working remotely and some people still being reluctant to travel on public transport. All of this has severely reduced passenger numbers on all routes.
"This loss of revenue has had a financial impact on the business and additional factors such as the recent increase in fuel prices and the general rise in inflation has only made that greater.
"The directors have, for some time, been looking for outside investment or a purchaser to take Yellow Buses on to the next stage of its life. They felt that as a small independent business it was unable to handle the current challenges alone and hoped that by merging with a larger operator it would provide them with a broader platform from which to operate.
"Unfortunately, those negotiations take time, and during that time the business was coming under increasing financial pressure. Negotiations with one of those parties, a large national operator, have entered the final stages and we hope to be able to conclude within a matter of days.
"With its long history in the local area and its integral role within the community we appreciate that there will be a great number of people concerned about this news; what we would ask is that the community shows it support by using the services. Support Yellow Buses and crucially its staff by using the bus. Take a trip on one of the buses and let the drivers know they have your support. Show them just how important this service is to everyone."
The call for passengers and holiday makers to continue to support the business and use its services has been echoed in social media posts by local people connected to the coach and bus industry.
Although no mention has been made of who the national operator might be, there are a few options. A takeover by Stagecoach would be straightforward as it does not operate in the area, and would fit in well with its South division. First Bus operates as far into Yellow Buses territory as Poole with its X54, and it would be a natural expansion of its southern operating companies, being situated betweens the firm's Weymouth and Southampton depots.
A takeover by National Express could be complex in regards to the Yellow Coaches division, which has contracts to operate on both National Express diagrams and, for the next few weeks, Stagecoach-owned megabus, until its retail operations move to ComfortDelgro, in which case it would be working under contract to what would, theoretically, be its own competition. However, it would fit in well with the firm's National Express Transport Solutions portfolio of coach companies along the South Coast.
A move by Go-Ahead Group, which operates in competition with Yellow Buses through its morebus subsidiary could attract the attention of the Competition and Markets Authority (CMA) due to the overlap of bus services in Bournemouth.
A further announcement about the future ownership of the company is expected in the coming weeks.