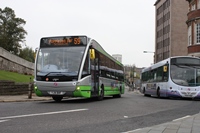 The City of York Council's ruling executive has agreed to a year-long extension to the authority's current contract with First Bus to run York's Park & Ride service, the York Press reported.
The local authority said the decision was made after 'no satisfactory bids to manage the service had been received.'
Council officers will now talk to bus operators about a new tendering process to run the service, which carries more than four-million passengers each year.
Councillors said the operator of the service would need to reduce emissions from the Park & Ride fleet if vital improvements in air quality were to be achieved.
The authority has said previously it is confident an operator will be secured, and options for addressing the concerns of potential suppliers will be developed.
The results of the review are set to be brought before the executive in December, prior to the issue of a further invitation to tender. Changes could include alterations to the frequency of service and the type of bus used.