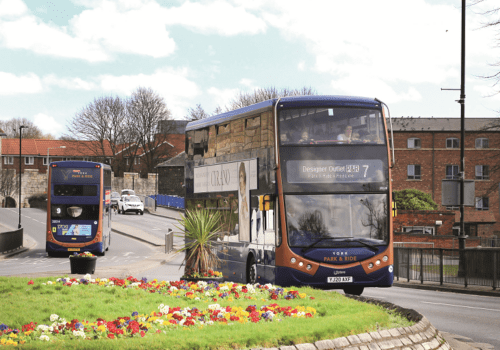 York's Poppleton Bar park & ride will reopen on Saturday 1 April following the site's use as a Covid-19 testing centre. The city has a large and popular park & ride network, with more than three million journeys made in 2022. The reopening of the temporarily closed site has been supported by York's Bus Service Improvement Plan (BSIP), which has seen the City of York Council awarded £17.36m from the DfT to support its development, including key bus schemes and initiatives across the city. Also included in the BSIP are the completion of the electrification of First York's fleet, and upgrading the city's park & ride network, allowing it to support a wider range of bus services, providing overnight parking at more sites and refurbishing the two oldest sites, at Rawcliffe Bar and Grimston Bar.
Councillor Andy D'Agorne, Deputy Leader and Executive Member for Transport at City of York Council, said: "We're delighted to be reopening Poppleton park & ride in partnership with First Bus. To encourage greater use of the bus network, and sustainable travel routes, our network and bus services must be safe, convenient and attractive to residents, commuters and visitors. Reopening the site is a major step forward to achieving this."
Operations Director at First North & West Yorkshire Tom Bridge said: "We look forward to welcoming customers back to Poppleton Bar and increasing the number of people who travel with us every day. Using our all-electric buses provides a quieter, calmer journey into the city, helps avoid congestion and reduce carbon emissions. We will also be introducing our newly-repowered single decker buses to operate from Poppleton which will offer a quality travel experience in comfort."
In March last year, the council was awarded an initial £8.4million in ZEBRA scheme funding, which enabled an order for 44 electric buses from Wrightbus. Earlier this month, the council was awarded an additional £1.8m to increase the scope of the ZEBRA funding bid, alongside a pledge from the operator pledging to co-fund £2.8m for a further nine electric buses.