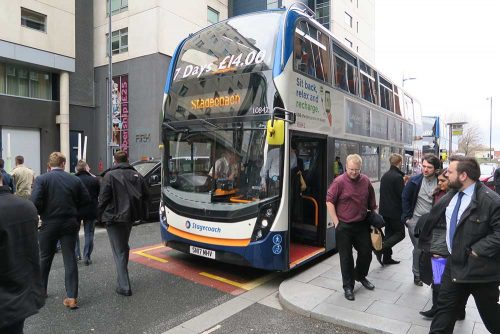 Jade Smith attends the Young Bus Managers Network Spring 2017 conference in Liverpool, with speakers offering advice and praising the young talent within the industry
The Young Bus Managers Network Spring 2017 conference was held on March 29-30 at the Radisson Blu Hotel in Liverpool, with views of the River Mersey and the city's waterfront buildings.
The event attracted a record attendance of 105 delegates, beating the previous record of 95 to last year's conference in Glasgow. Enthusiasm from both the experienced speakers and young managers radiated throughout the event, and set the tone for talks about the challenges and opportunities ahead.
The speakers at the conference were:
David Brown, CEO of Go-Ahead Group – who talked about his 10 rules of leadership
Giles Fearnley, MD at First UK Bus – with three reasons to be cheerful
Jane Cole, MD of Blackpool Transport – about making improvements
Matt Goggins, Head of Bus at Merseytravel – who provided a view on the city the conference was held in: Liverpool.
The 10 rules of leadership
The after-dinner speaker on Wednesday was David Brown, CEO of Go-Ahead Group, who set the tone for the event with some sound advice.
"I want to speak to you because the industry needs you […]
What you get with a subscription
Operator & Supplier Profiles
Face-to-Face Interviews
Lastest News
Test Drives and Reviews
Legal Updates
Route Focus
Industry Insider Opinions
Passenger Perspective
Vehicle Launches
and much more!