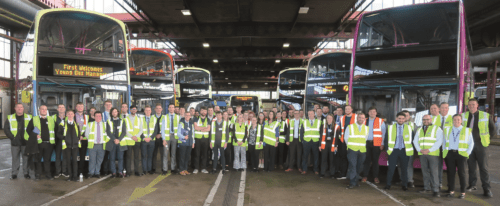 Buses, tunnels, ferries, franchising and entrepreneurs are set to take centre stage at the next Young Bus Managers Network conference. The organisers say there are still some spaces left for the organisation's autumn conference in Liverpool on Wednesday 18 and Thursday 19 October, where there will be a busy programme of events, including a behind the scenes tour of the Mersey Tunnels or an optional late afternoon Explorer Cruise on the famous Mersey Ferries.
With bus franchising in Manchester now underway, and Liverpool Combined Authority considering a similar scheme, the conference will hear from Stephen Rhodes, Director of Bus at Transport for Greater Manchester, and Zachary McAskill, Head of Franchise Mobilisation for Stagecoach, to hear how the process in working from the point of view of one of the operators in the city.
Chair of municipally owned Warrington's Own Buses Cllr Cathy Mitchell will share her view on the way buses should be organised and will give an update on Warrington's journey to introducing a fully electric bus fleet.
Away from franchising, two young managers at Vectare, Head of Commercial Adam Hemmingway and co-founder Peter Nathanail, will discuss the founding and development of the company, a transport technology and bus operator which is rapidly expanding, running local bus services as well as school and DRT services. Fellow young managers Jordon Johnson-Symonds from Stagecoach and Hayley Russell from FlixBus will also speak and share their experiences.
When CBW went to press, a limited number of places were still available for the event; more details can be found via the organisation's website at youngbusmanagers.org.uk.