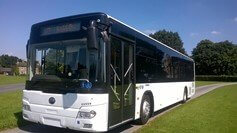 The UK's first Yutong bus has arrived at the Chinese manufacturer's dealer, Castleford-based Pelican Engineering.
Called, the CB12 – which stands for City Bus 12-metre – the vehicle is a diesel-powered prototype. A 10-metre variant is to follow, and a two-door variant will be available in due course.
Pelican was keen to stress that the bus is a preview vehicle, rather than a demonstrator.
"It's come with type-approval – we expect to sell this bus in due course," Bob Elliott, x role x at Pelican.
"It's got a lot of options on it – features which most operators will not necessarily want, such as air-conditioning, but in terms of approvals, it's easier to de-spec a vehicle."
In terms of capacity, the 12m bus can accommodate 41 seated passengers, 28 standees plus one wheelchair – or 39 seated passengers, with 31 standees and no wheelchair. Pelican said the driveline is essentially the same as that on the popular TC9 midi coach.
The bus debuted at the CPT's recent ride & drive event at North Weald airfield, where Pelican said it attracted a lot of interest.
"Yutong's approach with this bus will mirror that on its coaches – listening to customer needs," explained Bob.
"We're eager for feedback. Want to finalise specification for the UK market. If any operators are interested, please contact us now."