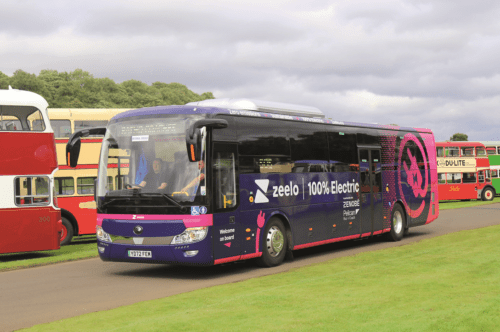 Transit tech company Zeelo, which specialises in employee and schools transport, has entered a partnership agreement with Mobilityways, a technology organisation with a mission to decarbonise commutes by helping employers to measure, reduce and report commuter emissions. The partnership agreement enables Mobilityways to set best practice guidance for an accurate and standardised measurement of CO2 emissions across commuter transport, while simultaneously enabling Zeelo to accelerate its mission to reach its net-zero carbon emissions targets. Together, the two companies intend to enable 1,000 UK employers to make the switch to net-zero employee transport. It will also be able to measure and track emissions, and implement timely and cost-effective decarbonisation strategies that set a precedent for net zero commutes by bus in the UK.
The companies say that the daily commute to work is the least efficient journey people make, and contributes to 5% of the UK's total carbon emissions. Zeelo client Prologis DIRFT, a rail and road logistics park, has been the first to adopt Mobilityways' services to track its CO2 impact from ground transport and says it has already reduced CO2 emissions by 50% since October last year, thanks to optimisations enabled by Zeelo's smart routing technology.
Findings from CO2 emissions reductions were presented by Mobilityways and Zeelo to the UK National Department for Transport in June this year and set a precedent for better tracking smart decarbonisation efforts across UK commutes.
Sam Ryan, co-founder and CEO of Zeelo, commented: "Achieving our net-zero emissions goals requires a well-measured and pragmatic approach. Mobilityways is a leading provider of decarbonisation strategies and solutions for the transportation industry in the UK with a network of over 700 companies seeking to reduce emissions from their ground transportation operations. We're confident that the partnership will not only strengthen our mission to achieve net-zero emissions from Zeelo's services in line with our projected timelines, but also it will help accelerate our clients' transition to electric bus transport before 2030."
Commercial Director at Mobilityways Basil Choudhry added: "We're delighted to partner with Zeelo. Our reporting standards and our emissions-tracking measurement methodologies exemplify our shared vision for a cleaner and greener future of transport. Our ground-breaking software will be enhanced with Zeelo's own tracking technology to provide a single comprehensive platform for all net-zero commuting requirements. We have already saved over 1 billion commuting miles for hundreds of businesses across the UK and are proud to be the trusted partner of UK government departments, universities, and hospitals."