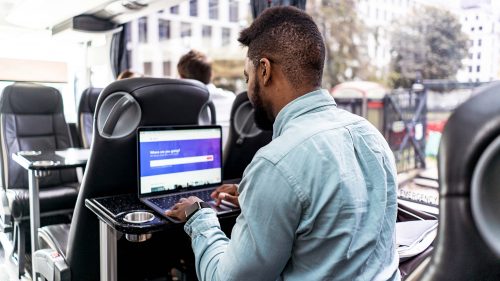 On-demand coach service platform Zeelo has announced it is teaming up with Aston Martin, to launch Zeelocommute, a shared mobility service.
Founded in 2017 by Barney Williams, Sam Ryan and Dani Ruiz, Zeelo's new service will specifically service Aston Martin employees commuting to and from work.
Using its AI-powered algorithm, Route Integration Navigation Automation (RINA) the service hopes to reduce commuter congestion and emission levels at peak times, with figures estimating that 91.2g of CO2 is saved per mile, per person that commutes by coach.
The new Zeelocommute services will run from Leamington Spa, Cubbington, Whitenash and Coventry, to Aston Martin's site in Gaydon, and drive Aston Martin workers directly to their office.
Barney Williams, Zeelo Co-Founder, said: "We know that the key to making shared-commuting services successful is to work with companies directly. By implementing just one commuter coach, we can take around 50 cars off the road and out of the office car park each day.
"The journeys are comparably cost-effective to driving, and with Zeelocommute employees can be more productive and also ensure that they get home on time in the evenings.
"Our goal is to work as many other leading companies across the UK so that they too can ensure that their employees can have a more cost-effective and hassle-free journey to work."