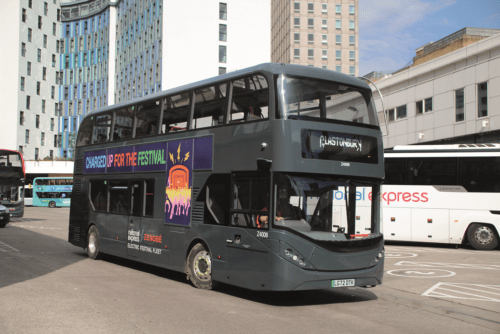 Electric vehicle fleet and battery storage specialist Zenobē partnered with National Express to deliver the first sustainable shuttle bus service to Glastonbury this year, demonstrating its ability to facilitate the decarbonisation of mass passenger transport to and from large-scale events.
Zenobē provided National Express with eight electric double-deck buses to operate its Bristol-Glastonbury route, transporting music-lovers directly to the gates of the renowned music festival in June. As well as providing zero-emission buses, Zenobē set up a pop-up charging station enabling National Express to charge the vehicles close to where they were operating, providing four fast DC chargers and a 'Powerskid' made from second-life batteries, enabling each fully charged electric bus to travel up to 173 miles.
The shuttle service ran from Bristol bus and coach station directly to Worthy Farm, with each bus expected to make three journeys a day, saving 348kg of carbon emissions compared with diesel alternatives. The Bristol-Glastonbury route was one of more than 60 on which National Express ran dedicated services from across the country for the festival.
Steven Meersman, Co-Founder and Director of Zenobē, said: "This summer we're providing the first sustainable bus route to what is arguably the world's most iconic music festival, and we're pleased to be partnering with National Express to reach another milestone together. We've paired two of Zenobē's unique offers: second-life EV batteries and our Electric Transport as-a-Service platform, to enable National Express to easily and affordably access an electric bus fleet and conveniently charge it near to the festival site.
"It marks an important step in the decarbonisation of the festivals and events industry, where huge numbers of people flock to remote locations for just a few days but to date have not had sustainable ways of getting there. It's an innovative solution for sustainable festival and events travel which we look forward to introducing to the sector."
National Express Zero Emissions Vehicle Specialist Tom Berry added: "We're pleased to be able to run these zero-emission buses for the very first time to Glastonbury, a festival which has always had sustainability at its very core. As the official coach travel partner for Glastonbury, we're experienced in providing reliable and affordable dedicated services direct to Worthy Farm, carrying over 12,000 revellers from all over the UK each year.
"It's great to be able to work with Zenobē to introduce more sustainable means of public transport for our customers and by having access to pop-up chargers on site for the first time, we're able to operate our festival services more efficiently, leading the charge in cleaner and greener travel solutions."