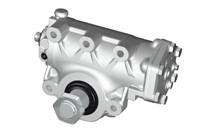 CHINA Beijing Public Transport Corporation (BPTC) has placed a major order for lowfloor axles with ZF. They will be used on 2,200 Chinese buses being delivered to Beijing in 2013.
For ZF, this means a large supply volume of more than 5,000 axle systems as several axle sets are installed in each bus – including components like shock absorbers and chassis modules. The order encompasses RL 85 EC front axle systems, providing a wide centre aisle in the passenger compartment and a floor height of only 350mm, AV132 drive axles and the AVN132 tag axles. Their low floor heights provide step-free and faster entry and exit at all doors. Similarly equipped buses already operating on Beijing's BRT system have a proven high passenger flow rate giving typical dwell time of 16 seconds at each stop.
The ZF-Servocom ball-and-nut power steering systems are being supplied by ZF Lenksysteme, a 50:50 joint venture between ZF and Bosch, for all 2,200 buses. It supports the precise steering behaviour of buses equipped with ZF's low-floor technology. BPTC has also ordered this steering system for another 800 intercity buses.