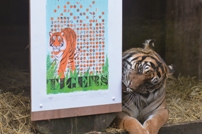 Groups can visit the Zoo and its tigers with great savings
ZSL London Zoo has teamed up with London-based design company WOOP to create a limited-edition print called 'A Streak of Sumatran Tigers' – designed especially for ZSL's Tiger SOS campaign. To launch the print, the zoo's two Sumatran tigers had a chance to have a first peek at the print as keepers put a special copy in their enclosure.
Lumpur and Reika were intrigued by their likeness and were quick to investigate the new object in their home by sniffing and "marking" the print. The stunning print features a Sumatran tiger with 300 tiger-striped dots to show the number of tigers estimated to be left in the wild. The artwork will be a limited print run of just 300 at a price of £300. Half the money generated from sales will be donated to the campaign.
Tiger SOS is a campaign to raise money for ZSL's tiger conservation work in Sumatra, along with developing a new tiger conservation headquarters tiger exhibit at the zoo. Visitors can learn more about these fascinating, fearsome predators while discovering more about ZSL's efforts in conservation.
Groups of more than 10 paying people receive a 20% discount on ticket prices purchased online in advance and a 15% reduction if paid for at the gate. Winter season prices start at £13.28 for adults, £10.56 for children and £12.08 for concessions. Entry is free for Blue Badge Guides, and for every 10 paying children in a group, an adult can enter free.
Coaches can drop off and pick up passengers on Prince Albert Road, within walking distance of the zoo entrance. Parking for coaches is available in the zoo's car park, subject to available space, for £37.50.
Coach drivers accompanying a group to ZSL London Zoo are eligible for free entry to the zoo and a meal voucher. If more than 100 people are booked in to visit ZSL London Zoo or ZSL Whipsnade Zoo in a year, your company is eligible to apply for our credit account scheme, which includes ticket discounts, voucher entry, 30 day credit terms, free coach parking and a coach driver lunch voucher for use in the Zoo cafes at both ZSL London Zoo and ZSL Whipsnade Zoo.
For more information on this offer or to book a visit, contact [email protected] or phone 0844 225 1826