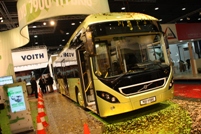 Grants awarded to Henderson's Travel, National Express Dundee, Lothian Buses, MacEwan's Coach Services and Deveron Coaches Ltd.
Scottish Transport minister Keith Brown announced the successful bidders from the second round of the Scottish Government's Green Bus Fund (SGBF) on April 5.
The five winning companies receive grants totalling just under £1.8m which will see 26 low carbon vehicles added to Scottish fleets.
Brown announced the funding awards during a visit to Henderson's Travel depot in Hamilton Lanarkshire. The firm is one of those set to benefit from the investment along with National Express Dundee, Lothian Buses, MacEwan's Coach Services and Deveron Coaches Ltd.
Brown said: "The Scottish Government is absolutely committed to public transport in Scotland and to our ambitious climate change target of reducing carbon emissions by 42% by 2020. Early indications from the use of vehicles bought in the first phase are showing substantial fuel savings and reduced emissions. This round of investment will build on these successes and commits further funding to help our bus industry invest in the latest emissionreducing technology."
John Henderson of Henderson's Travel said: "We are very pleased to have received a grant from the SGBF, which will allow us to purchase another hybrid vehicle. This will bring our number of hybrid buses to seven in our fleet of 52 vehicles. These hybrid vehicles are central to our policy of operating economical, environmentally friendly vehicles which is particularly important during these times of high fuel prices."
The SGBF took the form of a Challenge Fund where bids were assessed against a published set of criteria. The fund opened for applications in mid-January and closed at the end of February. All successful applicants had to place their orders by March 31, 2012. Manufacturers receiving the orders from SGBF are Alexander Dennis Ltd which received an order from National Express Dundee, Volvo will supply Lothian Buses Ltd, whilst Optare will manufacture the vehicles for MacEwen's Coach Services, Deveron Coaches Ltd and Henderson Travel.
Lothian Buses has confirmed it is the first bus operator in Scotland to order the new Volvo 7900 hybrid single decker bus.
The operator had 10 of the vehicles delivered at a cost of approximately £2.5m. Manufactured in Poland, the vehicles are 12m long, with a capacity for 76 passengers. They will also be the first in Lothian Buses' 650-strong fleet to feature an energy saving engine-off-at-idle device. This means the bus, the first operated by Lothian Buses with a Euro VI standard rating, will emit lower levels of air and noise pollution at bus stops and traffic lights.
Ian Craig, managing director of Lothian Buses, said: "With grant aid from the Green Bus Fund, Lothian Buses is proud to be the first public transport provider in Scotland to order a Volvo 7900 hybrid bus.
"We know our passengers want environmentally friendly buses and we wish to help Scotland meet its carbon reduction targets. Our decision to invest further in a low carbon bus fleet underlines Lothian Buses' commitment to introduce industry leading, practical measures which firmly establish us as the operator of one of the most modern and 'greenest' bus fleets in the country."
Steve Dewhurst, managing director for Volvo Bus UK and Ireland, added: "This is a very important order for Volvo Bus and represents a milestone in our history because it marks the first order taken to supply a complete Volvo Bus in to the UK market."
Money from last year's fund saw five bus operators introduce 48 new low carbon buses. Lothian Buses confirmed the Double Deck Hybrids they bought in the first SGBF is producing a fuel efficiency of 56.7% improvement over the standard diesel vehicles previously used.
FUNDING OVERVIEW:
National Express Dundee, 10 double deckers, £508,180
Lothian Buses, 10 single deckers, £750,000
MacEwan's Coach Services, 3 single deckers, £261,000 Deveron Coaches Ltd, 3 single deckers, £174,100
Henderson's Travel, 1 single decker, £87,200