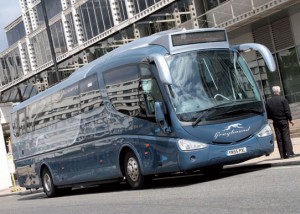 National Express ticket sales at two major UK coastal cities are sailing full steam ahead following the withdrawal of FirstGroup's Greyhound services from Portsmouth and Southampton in November 17, 2012.
The Greyhound routes, which also briefly served Bournemouth, began operating three years ago before First pulled out.
This year almost 300,000 passenger journeys have been made on National Express routes from Portsmouth and Southampton to London Victoria – a year-to-date increase of over a quarter compared to 2011. Its Bournemouth to London service is particularly popular, with virtually the same journey time as the train at a fraction of the price.
National Express said it is poised ready to add extra services in the south coast region as and when necessary to cater to the growing demand.
Tom Stables, MD of National Express UK Coach, said: "The South Coast is a core market for us and we continue to invest in this important region. National Express services not only enable people to travel affordably but also bring significant tourist spend into these historic cities."