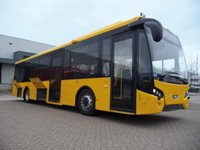 The vehicles have been specifically designed to tough out the Swedish winters
SWEDEN Nine VDL Citea SLE Cargo buses were recently delivered to Björks Buss AB, a member of Sambus in Sweden. This marked both the handover of the 1,500th Citea and of the first Citea SLE Cargo.
The Citea Low Entry is available in four different lengths with Cargo variants SLE-120 (12m) and XLE- 145 (14.5m) which provide around 2m3 of luggage space beneath the extended high-floor portion of the bus.
The Citea SLE-120 Cargo models for Björks Buss are all 12m long and further equipped with extra-wide single-leaf exit doors, generous access to the luggage compartment, comfortable seats, double glazing, extra insulation and additional heating capacity. The SLE will operate for 10 years for the UL (Swedish Public Transport authority) in Enköping and Bålsta.
Remi Henkemans, MD VDL Bus & Coach bv, said: "With the Citea range we have been able to increase sales in Europe and the Middle East. VDL Bus & Coach is committed to the continuous development of the entire Citea platform with new models, new powertrains and new powertrain technologies. The Citea SLE and SLE Cargo have been designed to cater to the requirements of Swedish customers. Björks Buss was the first company to purchase this model and did so even before development had begun. We realise and greatly appreciate this reflects customer confidence in our ability and flexibility to build products our customers actually need."