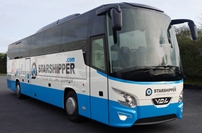 FRANCE The liberalisation of long distance transport offers new opportunities for VDL Bus & Coach. At the end of 2015 10 Futuras were delivered to French passenger transport companies that operate on the Starshipper long distance routes. In the first four months of 2016 VDL Bus & Coach is delivering an additional 11 Futuras for use on the same services.
All 21 coaches branded in the Starshipper house style colours are Futura FHD2-129/440s. At the end of 2015 three were delivered to Le Groupe ASTT (Aquitaine Service Transport Tourism), two to Autocars Jollivet and five more for Cars de l'Élorn, Autocars Le Meur, Autocars Le Roux, L'Été Évasion and Autocars Jézéquel. These 10 coaches are 12.9m long and each have 48 seats, WiFi, 220volt socket at all seats, a defibrillator and/or a wheelchair lift.
By the end of April 2016 11 more coaches will have been delivered to various customers, including two for Autocars Nombalais, one for Autocars Jollivet and one for Hervé. Another six are going to Autocars Rouillard, Farouault, Bellier, Robert, Bihan and Cars des Abers. The 21st Futura will be delivered to Pullman D'Aquitaine in April.
Starshipper is one of five 'players' involved in the opening-up of the market for long-distance coaches. The marque is operated by independent small and medium size enterprises active in passenger transport in France. A very extensive network of long-distance routes, mainly in the west, east and south of France is now operated, and new services will be starting up in the near future.