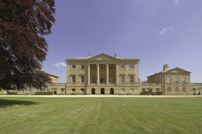 Basildon Park, situated seven miles north-west of Reading, is an 18th century country house which was restored in the 1950s.
The mansion is filled with fine pictures and furniture, and is noted for its original delicate plasterwork, elegant staircase and unusual Octagon Room.
Group tickets are £9 each for both house and grounds, or £6 each for just the grounds.
Tailor-made special interest tours are available for groups between 15 and 55 at an additional cost of £9 per person.
There is a tea-room at the house, as well as a private function room for advanced bookings.
Parking is available for two coaches 400 yards from the mansion.
The ground floor exhibition area, tea-rooms, shop and grounds are open every day between February 6 and December 21, while the house main show rooms are open between March 10 and December 16.
The average visit length is two hours, and nearby attractions include Beale Park Wildlife Park and Gardens, under a mile away, and Greys Court in Henley-On- Thames.
For more information ring 0118 984 3040 or email [email protected]