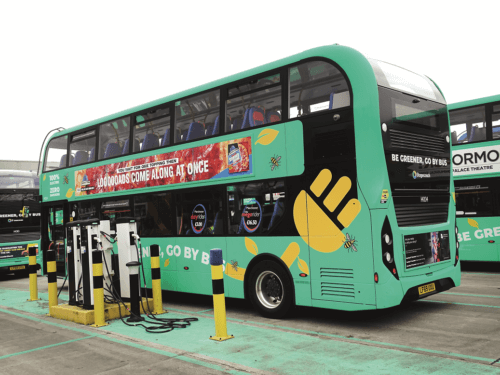 The Government has announced the latest beneficiaries of the ZEBRA scheme, which sees funding announced for 943 more zero-emission buses across England.
At the same time as launching its consultation on ending sale of all new non-zero emission buses from 2025 to 2032, the Government has announced the second round of funding from its Zero Emission Bus Regional Area (ZEBRA) scheme, which was launched last year to allow local authorities to bid for funding for zero-emission buses. Announced on 26 March, the £198.3 million of funding builds on almost £71 million announced in the first round of 'fast track' funding last year to support up to 335 new zero-emission buses in five areas, a further £50 million to make Coventry the UK's first All Electric Bus City with up to 300 new buses, and 100 buses funded by previous funding schemes, as well as those funded in London, Wales, Northern Ireland and Scotland. Local Transport Authorities which received funding under the first 'fast track' round were: Cambridgeshire and Peterborough Combined Authority; Kent County Council; Leicester City Council; Milton Keynes Borough Council, and; Warrington Borough Council.
A further 12 areas in England will now receive grants from the package to deliver electric or hydrogen powered buses, as well as charging or fuelling infrastructure, to their region. Transport Secretary Grant Shapps said: "I will level up and clean up our transport network. That's why I've announced hundreds of millions of pounds to roll out zero- emission buses nationwide. Not only will this improve the experience of passengers, but it will help support our mission to fund 4,000 of these cleaner buses, reach net zero emissions by 2050 and build back greener. Today's announcement is part of our National Bus Strategy, which will introduce lower fares, helping drive down the cost of public transport even further for passengers."
The move is expected to remove over 57,000 tonnes of carbon dioxide per year from the country's air, as well as 22 tonnes of nitrogen oxides on average each year, as the Government continues to push its aim to achieve net zero, clean up the transport network and build back greener, and supports the wider £3 billion National Bus Strategy to improve bus services, with new priority schemes, lower and simpler fares, more integrated ticketing and higher frequencies.
Transport Minister Baroness Vere said: "We recognise the scale of the challenge the world faces in reaching net zero. That's why reducing emissions and creating green jobs lies at the heart of our transport agenda. Today's multimillion-pound investment is an enormous step towards a cleaner future, helping ensure transport is fit for generations to come and allowing millions of people to get around in a way that is kinder to our environment."
Bids include the associated infrastructure, and operators will also invest significant sums alongside the DfT funding. Some highlights include hydrogen-powered articulated buses in the West Midlands, whilst the South Yorkshire package will include opportunity charging at Rotherham bus station. First York looks set to be the first operator of Arrival's new bus, whilst 10 of Transdev's single-deckers and all of the double-deckers will use opportunity charging. The double-deckers are destined for the firm's prestigious and high-mileage route 36.
Reactions
Commenting on the announcment, the CPT said: "Today's announcement is a welcome drive towards zero- emission bus and coach fleets.
"It is important that any eventual targets for both bus and coach are realistic and recognise the unique and different challenges operators face regarding infrastructure, funding and technological development. Our zero-emission coach taskforce has been looking at the challenges coach operators will face and its work will be crucial in informing today's call for evidence. With bus and coach representing only 3% of transport emissions it is vital that we move journeys from cars to sustainable transport to stay on track for the country's net zero goals. Therefore, it's vital that today's announcement is matched by the Government loudly promoting bus and coach travel and ensuring it delivers on the ambitions of its National Bus Strategy to improve services across the country. This should start by ensuring buses are given priority for road space to make journeys quicker and more reliable to encourage sustainable travel choices."
Silviya Barrett, Head of Policy at Campaign for Better Transport, said: "Transport doesn't get much more sustainable than zero-emission buses, so it's great news that the Government is investing in clean, green buses from Portsmouth to Blackpool. But there is still a long way to go to transition the rest of the bus fleet to zero and low emissions – Government must continue supporting more urban and rural communities to take up this supremely green transport mode."
Speaking about the Portsmouth bid, Councillor Lynne Stagg, Cabinet Member for Traffic and Transportation, said: "I was so excited to hear our bid had been successful and we can start providing zero-emissions buses in Portsmouth. This marks a significant milestone for our city in creating cleaner travel for all. I also eagerly await the funding announcement from Government in response to our Bus Service Improvement Plan. If successful, we will be able to transform our bus services so that residents and those coming to our city to work, study and visit have an affordable, reliable and better-connected bus service. I hope over time with all of these improvements we can support more people to leave their car at home and hop on a bus. This will improve air quality and make our city a better place for everyone to enjoy."
Greater Manchester has secured the funding after a joint bid to the Department for Transport (DfT) submitted by Greater Manchester Combined Authority (GMCA), Transport for Greater Manchester (TfGM), Stockport Council and Stagecoach. It will be topped up with £12.5million from GMCA and will support the introduction of 170 zero-emission buses running from Stockport by 2024. This equates to 10% of the whole bus fleet in Greater Manchester.
Andy Burnham, Mayor of Greater Manchester, said: "This is a significant boost to our ambitions for a fairer, greener bus system. Zero-emission buses play a critical part in our drive to help more people travel sustainably. We welcome the Government's backing, and we look forward to further support as we continue to build an integrated and affordable public transport system."
In York, FirstGroup will contribute £10m towards the new buses, alongside the £8m in ZEBRA funding. Once delivered, the new buses, expected to be from new manufacturer Arrival, will mean York has 77 electric buses in service, operating more than half the mileage in the city.
Cllr Paula Widdowson, Executive Member for the Environment at City of York Council, said: "Securing this investment is excellent news for the city. Here in York, we have already gone to great lengths to promote sustainable travel, particularly on public transport. In partnership with First York, we already have introduced 21 double-decker electric buses on the park & ride fleet. York already has bold targets for reducing carbon and taking steps to tackle climate change. We know that we cannot achieve this alone and that is why this funding will be so important in helping us reduce York's carbon footprint and improving our air quality."
National Express West Midlands will expand its hydrogen-fuelled fleet with 124 new buses. Twenty-four will be articulated 'tram-style' buses for the new Sprint bus priority route along the A34 and A45 between Walsall, Birmingham and Solihull.
Pete Bond, Director of Integrated Transport Services with Transport for West Midlands (TfWM) said: "Buses are the most used form of public transport in the region and this is welcome Government investment in our network. These hydrogen buses, the All Electric Bus City scheme in Coventry and the roll out of electric vehicle charging facilities we are planning shows how the West Midlands is leading the way on decarbonising our transport and making good progress on achieving our net-zero targets. Not only is it welcome to support our work to improve the air we breathe, but new modern buses, accompanied by the new bus lanes and priority measures being introduced will offer commuters a reliable and comfortable alternative to the car and traffic congestion. It also presents an incredible opportunity to make the West Midlands a world leader in the new hydrogen economy."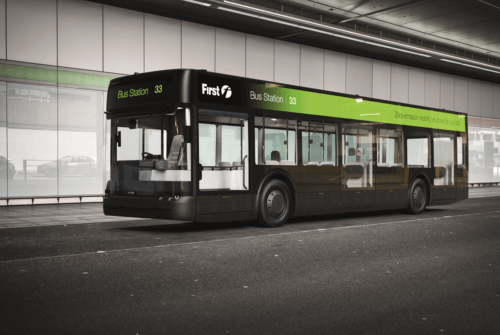 Bus & coach consultation
The Government has also launched a public consultation seeking views on setting a specific date between 2025 and 2032 for ending the sale of new non-zero emission (at the tailpipe) buses.
This would mean that, from 2032 at the very latest, the sale of all new buses, powered either in part, or totally, by an internal combustion engine would cease to be allowed. Any new buses sold from that date would need to be fully zero-emission at the tailpipe, and the end of sales would apply across the whole of the UK.
A call for evidence was also launched on ending the sale of new non-zero emission coaches and minibuses, allowing evidence to be gathered on the challenges to moving to a zero-emission fleet, and what an appropriate end of sales date might be.