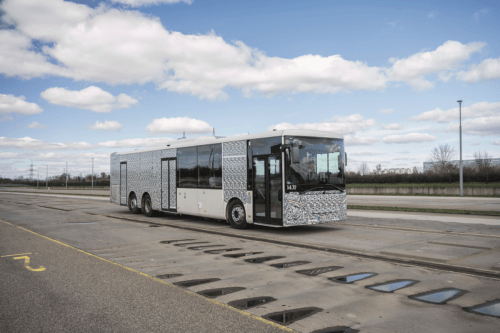 GERMANY
Setra's new MultiClass LE has been undergoing rough road endurance testing on a special bumpy road test track, which the manufacturer says equates to around 100 times the punishment a vehicle would take in normal driving, allowing it to assess the effects of up to a million kilometres of simulated use, giving a 'time-lapse' vehicle life of around one million kilometres within a year of testing.
The vehicle undertakes the tests empty, partially loaded, loaded and even overloaded using strapped water barrels on the seats and ballast bags with lead shot on the floor to simulate passengers. The drivers, however, are real and alternate every hour for their safety and comfort.
Because of the condensed nature of the test, the shock absorbers of the MultiClass LE have special cooling equipment fitted during the test.
Rough road testing can take up to a year. After one and two thirds of the total distance as well as after completion of the test, the bus is thoroughly examined at the Daimler Buses testing department in Neu-Ulm.