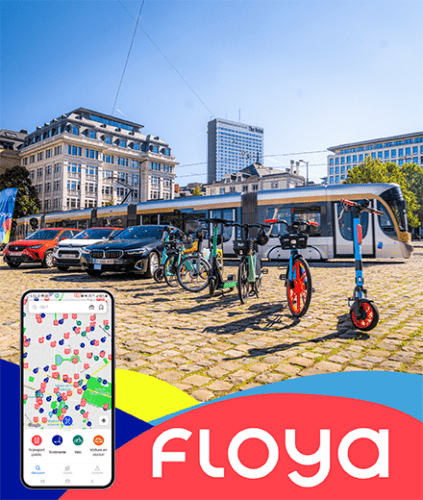 Brussels
Brussels has launched a new app that allows users combined access to multiple forms of public and shared mobility solutions, including car share schemes and scooters as well as public transport. Unveiled by public transport operator STIB-MIVB, the new Floya app enables users to plan, book and pay for multiple different modes of transport across the city within the same app. It currently includes four public transport operators and several shared scooter, bike and car services, and works alongside STIB-MIVB's own app to give users the flexibility to choose to combine different mobility options to suit their plans and journey.
STIB-MIVB says that Floya will also constantly be improving, with a host of new features scheduled for the future to offer users even more options. The Floya app allows users to plan their immediate trips or ones for a later time, or launch a route search on the spot. It offers options, including their prices, according to the user's preferences, such as whether they want to switch from one mode to another or prefer to use a particular means of transport, or whether they have their own bike or scooter or a public transport pass.
Public transport tickets can be purchased in the app, or users can choose to pay via contactless, and Floya gives users directions in real-time and details on the whole journey, including last-minute changes and diversions.
In choosing the name, STIB-MIVB said it was mindful to not have a name with a French, Dutch, German or English connotation. The operator said it wanted to have a neutral name, and Floya is inspired by the Norwegian word, 'fløy,' which means 'wing' and evokes the freedom to move, independently and effortlessly.