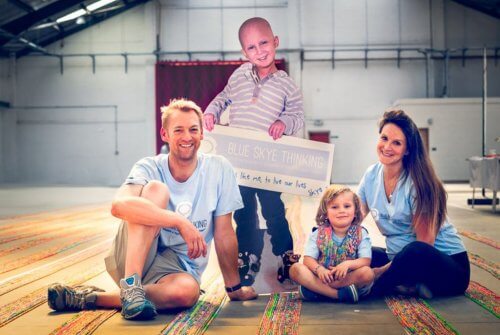 Oxford Bus Company continues to help good causes and charities with its latest Brand the Bus announcement
Blue Skye Thinking has been confirmed by Oxford Bus Company (OBC) as the winner of its 2021 Brand the Bus competition. The children's brain tumour charity has been invited to work with the operator to design a bus wrap featuring its brand colours, logo and messages. The charity was selected by a judging panel from a group of good causes which had earned the most public votes from 23 original entries.
OBC has also awarded advertising space on a bus rear to second placed Abingdon Riding for the Disabled Association, a charity that enriches the lives of disabled adults and children via horses.
Reducing the Risk (of Domestic Abuse) came third and Against Breast Cancer fourth in the final placements and both will receive marketing support.
Phil Southall, Oxford Bus Company Managing Director, said: "Congratulations to Blue Skye Thinking and to everyone who entered. It was an incredibly close call to select the final three and the overall winner from so many fantastic good causes. Blue Skye Thinking put a lot into their submission, including details of a wider marketing campaign involving the bus over a prolonged period. They also achieved the most public votes and so were worthy winners. We are looking forward to working with them on their design for a bus.
"The final decision was so close that we decided to award Abingdon Riding for the Disabled with a bus rear in recognition of the great work they do. We will also look at how we can support Reducing the Risk to raise the profile of the good work that they do. The response to the competition has been overwhelming and is a timely reminder of the good causes in our community, especially during this challenging period. While it remains difficult for transport operators during the pandemic, we felt it was important to maintain the Brand the Bus competition to give something back and continue to support good causes at a time when it is needed more than ever."
Blue Skye Thinking supports research into the treatment of childhood brain tumours, set up by the family of Skye Hall who was diagnosed with a grade 4 medulloblastoma in 2013. Despite surgery and treatment Skye passed away a year later.
Sally Hall, Director of Blue Skye said: "We are absolutely thrilled to have been chosen as the winner. It was an honour to have received so many votes from our supporters to enable us to proudly stand alongside some of the big charities in Oxford that also strive to deliver so much to the community.
"I watched the videos from all entries and certainly learned a lot from some of the smaller charities, and in such strained times, it just goes to show how proactive and incredible people can be to help others. Oxford Bus Company offers such a unique opportunity, and the impact it will have for Blue Skye Thinking and children with brain tumours will be very significant indeed. Thank you to everyone who helped us and voted for us."