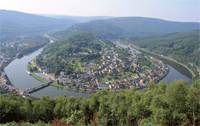 New attractions are being developed for 2012 in one of the most unspoiled areas of France
Green is the theme as the French Ardennes prepares to launch a colourful bid to establish itself at the World Travel Market, held at the ExCeL London. The region's official website, www.ardennes.com, carries a distinctive green motif, while the French Ardennes itself is host to stunning scenery.
While it was once of the least explored parts of France, this only serves to augment its rustic and rural character; around 30% of the region is covered in forests, while this figure doubles further north near the River Meuse and Semoy Valley.
In recent years, the French Ardennes has experienced major 'green' developments, most notably the Voie Verte (Green Path), a 50 mile long track alongside the Meuse which allows visitors to walk, cycle, horse-ride or even rollerblade the full distance between the northern town of Givet, and the region's capital, Charleville-Mézières. The French Ardennes is certainly a prime destination for outdoor activity enthusiasts, but the attractions do not end there as the region is set to bring news of several attractions arriving next year, including a new regional nature park, the re-opening of the heritage attraction Domaine de Vendresse, a new golf course in Villers-de-Tilleul, as well as the very luxury Chateau Hotel "Le Domaine Chateau de Faucon".
Copies of all of The French Ardennes' relevant tourism literature will be available at World Travel Market, and can also be obtained by phoning +33 (0) 324 56 06 08, or e-mailing [email protected]. For further information, visit www.ardennes.com