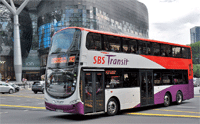 SINGAPORE The Wright Group is a third of the way through a 450 vehicle order from SBS Transit of Singapore to supply Wrightbus-bodied double deck buses by 2012.
The Ballymena-built buses are packaged and supplied in completely knocked down kits from Ballymena. From there, they are shipped to Singapore and assembled by engineers trained by Wrightbus at the CDGE facility, who in turn provide guidance and training for local assembly staff in Singapore.
The first double deck bus of the order entered service in September 2010.
The 12m air-conditioned tri-axle buses are built on Volvo B9TL chassis and allow a comfortable journey for high volumes of passengers. The delivery of the kits and training of new assembly staff are part of a wider fleet renewal programme. The 450 new vehicles set to join SBS Transit will reduce the average age and environmental impact of the fleet, as the vehicles are equipped with Euro 5 emission standard engines.
Charles Goodier, Wrightbus business development manager said: "We're delighted to have completed the first 150 kit deliveries to SBS Transit. Completing this initial order and then supplying a further 300 double deck kits allows us to introduce Wright Group innovation and technology into new markets, further increasing our global profile."