National newspaper recognition for highly respected operators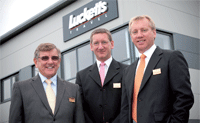 Coach operators Lucketts Travel and Edwards Coaches have been recognised by the Daily Telegraph as two of Britain's top 1000 brightest businesses. Farehambased Lucketts, and Pontypridd's Edwards were cited for their ongoing success, and making the Telegraph's list can be taken as a very satisfying mark of success.
Operating since 1926, Lucketts has been one of South Hampshire's success stories and a driving force behind the region's economy. With the third generation of the Luckett family now at the helm of the company, the philosophy of the operator has always been to provide a quality service.
As featured in CBW at the time, Lucketts celebrated the opening of its new headquarters and workshop in Broadcut, Fareham last year, symbolising five years of impressive growth in spite of a recession. The Broadcut HQ provides a modern office space for 173 staff, and maintenance facilities capable of servicing the company's 70-plus fleet.
2010 saw the creation of 45 new jobs and turnover for 2009/10 reached £14m, exceeding all expectations. Following the acquisition of businesses in Eastbourne and Worthing, Lucketts can now boast one of the largest fleets in the south of the country.
Director, Ian Luckett, said: "The Lucketts Travel team is delighted to be recognised by The Daily Telegraph as a business which is truly committed to delivering a quality service to its customers while providing secure regional employment in a family run company going from strength to strength."
Meanwhile, Edwards has been celebrating similar success in light of trying economic times. Established in 1925 and now in its fifth generation, Edwards has experienced rapid growth in 2011, and cites continuous investment as the most significant contributor to this. In early January the operator completed the purchase of failed Diamond Holidays and Brian Isaac Holidays.
Among other achievements, Edwards has begun providing its local community with a bus service to the market town of Pontypridd and Cardiff. It recently became an operator for National Express services for Cardiff to London and Cardiff to Bradford routes.
Commercial director Jason Edwards said: "The record breaking year we seem to be having just keeps on rolling. Over the years we have kept up the same high standards and work ethic across all parts of the business and all the hard work really does seem to be proving fruitful.
"To be recognised in such a manner is truly astonishing and I am sure speaking on behalf of all the staff we are all really grateful.
"The future certainly looks promising for the business and something all the staff can be proud of. We are still very much a family run company with our feet firmly placed on the ground. These accolades are a great pat on the back for the whole team but tomorrow's another day with further opportunities to embrace."
The success stories of these two family-run operators can only be seen as very promising news for the coaching industry, and it is hoped that Lucketts and Edwards continue to be bright businesses for years to come.