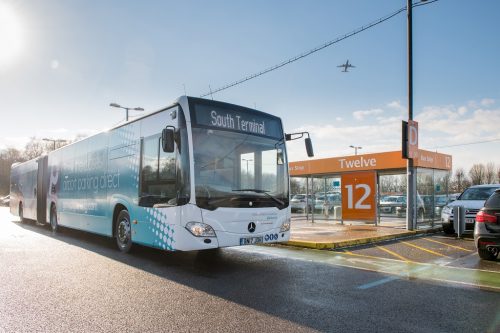 Developed by 21st Century for Omniserv, the 'Connected Bus' system recently went live on passenger and staff car park buses at Gatwick Airport.
The system has been designed to provide passengers with accurate real-time information, as well as sending service performance data to Omniserv to help them maximise operational efficiency.
21st Century was responsible for the entire design and installation process which included connecting the on-board systems to ITxPT-compliant standards – which utilise 12 high-definition, live view IP CCTV cameras with Cloud video management; audio recording is available where required.
Automatic passenger counting also features as part of the connected bus system, along with on-board infotainment (including next stop announcement) and passenger WiFi on the staff vehicles.
Back office reports allow Omniserv to monitor passenger demand and service-level agreement (SLA) adherence.
Gatwick's bus stops have been fitted with 28" real-time information screens; predictions for the vehicle's arrival time at each stop are generated based on systems on-board the vehicle.
Mark Johnson, Director of Fleet Systems at 21st Century, commented: "One of our main aims for the Omniserv connected bus was to enable the operator to respond to passenger demand in a dynamic way.
"The car park zones open and close as they reach capacity and so the bus movements need to be flexible, with passengers requiring instant and accurate information.
"By capturing and displaying real-time information, Omniserv is able to improve the passenger experience at Gatwick."