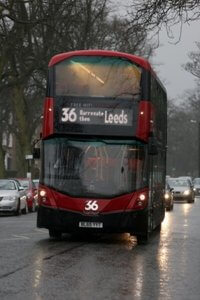 New generation of 'twin decks' launched for pioneering route 36 in Yorkshire
Transdev in Harrogate has re-launched route 36 between Ripon, Harrogate and Leeds with 14 new 11.5m-long Wrightbus Gemini 3-bodied Volvo B5TLs.
Longer than the 10.6m buses they replace, seating capacity is 63 with Isri Civic V3s in the lower saloon and EGAs in the upper in a two-by-one configuration. As well as double-glazed side windows, the buses have glazed roofs and LED lighting is used throughout. Alphatronix USB charging points are at all seat positions. Icomera supplied the WiFi with MAX 4G mobile access and an applications router, Synectics the 15-camera CCTV system to Transdev Blazefield's own specification. There are also Mobitec silver series 'countdown' destination blinds with next stop announcements and scrolling screens on both decks.
"Let me provide some context as to why we feel the new 36 is so important," Transdev Blazefield CEO Alex Hornby told invited guests at the launch. "Way back in 2003, two men had a vision that would change the face of the bus between Ripon, Harrogate and Leeds. Dazzling customers with leather seats and sexy black buses? Everyone thought they were mad. The thousands of new customers to the 36 disagreed. And it took many others years to then realise it was a masterstroke and it eventually became a standard for quality and achieving growth in the transport sector.
"Meanwhile, the 36 carried on capturing the imagination of a loyal band of thousands – with levels of 10% growth and more achieved year upon year. The timetable has doubled in 25 years. It is something for everyone involved in delivering the 36 to be proud of.
"We have taken the vision of 2003 and the views of our customers and our team on board to now create a new 36, capturing the best of what has gone before but to a higher level to create what we believe are simply the finest buses to ever exist in the UK. Transdev, our parent company and the world's number one multi-modal mobility provider, have invested £3.3m in these amazing vehicles.
"The buses proclaim Riding Redefined – but that goes beyond a strapline or clever marketing. We have taken every detail that contributes to the enjoyment of a journey and redefined them all. Never before has a unique package of high-class specification been assembled that includes:
Quilted leather seats
Coach seats with airline-style personal tables
Generous legroom
The first ever lounge area with desks, downstairs
Two plus one seats upstairs and a spacious back row (4 seats instead of 5). We have not crammed the seats in. Everyone deserves their own space.
"One of the most spectacular features is a glazed roof to gaze at the stars and the sky – as well as double-glazing throughout as we know how annoying it is when windows mist up and spoil that view of the beautiful Yorkshire countryside. Even the upper deck windscreen is coated in a film as used by F1 to deflect rainwater.
"We believe that free 4G WiFi (the fastest we could get) and USB power convinces people to leave their car at home – it is simply a waste of time to sit with a steering wheel in front of you. The USB power points are based at every single seat, so nobody loses out or is treated differently.
"Meanwhile, we know that our customers on certain rush hour trips exchange books. So we present Library 36. In partnership with our friends at Harrogate International Festivals we will allow our customers to take away, bring and swap books. This isn't just a gimmick. We know that a good community feel exists on the 36 and this will fit in perfectly with what our customers do.
"New for the 36 are next stop announcements – with LED screens on each deck – and voiced for us exclusively by none other than every Yorkshireman/woman's favourite newsreader: BBC Look North's Harry Gration.
"There is another first on the outside – we are told, also, never before seen in the UK – 'countdown' destination displays, that don't just say where they are going but at busy stops will tell you in minutes and seconds how long it'll be before they leave. Thanks to McKenna Bros for meeting our demands here.
"The service has been strengthened. We have to match ultimate convenience rather than simply giving customers a bus – even if they are the finest buses around!
"We are still every 15 minutes, sill taking a direct and simple route which we know works between Ripon, Harrogate and Leeds. Still seven days a week.
"There are now faster buses at rush hour non-stop between Moortown and Leeds as our research told us our customers wanted their journey speeded up especially at peak times.
"Night buses until 0315hrs on Friday and Saturday nights. We have a great theatre clientele who don't want to have to rush home. And we know there are others who like to enjoy Leeds and Harrogate's nightlife even longer!
"We also want to bring the 36 magic further – new links through to Bilton, Starbeck and Jennyfield will do that. Direct buses (no need to change) will bring the benefit of the 36 to more people in the neighbourhoods of Harrogate.
"We want our customers to find it easy to use the 36 and easy and uncomplicated to buy tickets. Our mobile ticketing app will soon be complimented by contactless payment – allowing people to buy their day and week ticket using their debit or credit card.
"We already provide our Live Times app – but we now bring you integrated add-on ticketing with First in Leeds, as the major city bus provider. For £1 add-on return to any 36 ticket, customers can access the city network including the hospitals, universities, Elland Road (for Leeds United FC) and the popular White Rose Shopping Centre.
"This project has been all about people from the beginning, involving research to preparation and implementation. All of our team involved in the 36, included me and my fellow directors, engineers, cleaners, commercial and marketing teams, supervisors and managers have joined our new dedicated 36 driving team in a comprehensive 'team talk' training programme.
"We are a very ambitious organisation, and have a simple mission.
"We want our team to be happy working for us.
"We want our customers to be proud they travel with us.
"We want our company to be innovative and successful.
"This will all be good news for the people and the economies of Harrogate, of Ripon, and of Leeds."