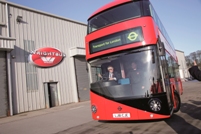 The first of eight is driven by Mayor Boris Johnson before it is tested on London streets in December
London mayor Boris Johnson travelled across the Irish Sea to Ballymena to test drive the first of eight prototypes off the production line of the new Wrightbus, which is the planned replacement for the traditional London Routemaster.
Wrightbus was awarded the contract to build the New Bus for London in January 2010. A total of 25 engineers and a production team of 40 are employed on the project, which it is claimed, is the first bus specifically designed for London in over 50 years.
An initial order was placed for eight prototype vehicles, with Wrightbus hoping many more will follow.
It is claimed recent tests of the vehicle's new hybrid drive show the bus will be expected to be the most environmentally friendly vehicle of its kind once it hits service.
The engine has been achieving 11.6mpg, compared with 8.6mpg expected of an average hybrid bus and 5.8mpg from a standard diesel.
Critical design features include three entrances and a double staircase to speed up boarding and alighting, along with an open platform at the rear. Many design features, as well as this platform, provide a contemporary take on some of the best loved elements of the original Routemaster, including grooved flooring on the stairs and entrances.
Other design features include a new lightweight bench seat with specially designed moquette – a dark red interior pallete designed to beat dirt – and a new wireless bell push which is seamlessly blended into the hand pole.
As is standard Transport for London specification, the prototype includes a wheelchair ramp on the centre door to enable the easy access for wheelchair users. There is also priority seating with space for assistance dogs.
The low floor throughout the lower deck is step free and the ibus onboard visual and audio announcements will be installed.
The prototype is expected in London for testing in December, with the other seven to leave the production line in the first half of 2012.
Mark Nodder, Wright Group managing director, said: "Today (November 4) sees another milestone along the way to delivering what we hope will be the best bus in the world. It is very exciting to see Mayor Boris Johnson at the wheel of the first complete vehicle to emerge from the production line.
"We are all looking forward to the New Bus for London entering service in the nation's capital, representing as it does the culmination of almost two years' work in design and development. Wrightbus is immensely proud to be at the centre of this unique and innovative project."
Boris Johnson said: "This fantastic machine is chock full with the latest technology and London buses will be world leaders once again when the first eight buses take to our roads early next year. They are just an advance party for what I envisage will eventually be a legion of their type."