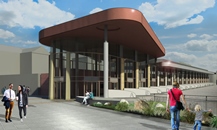 Transport for Greater Manchester (TfGM) has submitted a planning application to build a new bus station in Wigan Town Centre.
The plans for the new bus station include a single, covered concourse building, improved waiting areas, cycle parking and improved access to and from the town centre. The new facility would be built on the same site as the existing bus station.
The submission of the planning application follows the public consultation exercise that ran from November 23 until December 19, 2015, during which time the outline designs for the new facility were shared with councillors, members of the public and local businesses.
Throughout the four week consultation, nearly 200 responses were received online, by post or at one of the seven public events held within the town centre.
Cllr Andrew Fender, Chairman of the TfGM Committee, said: "I'd like to thank everyone who took part in the consultation and gave us their views. The large volume of responses received at a busy time of year shows the level of interest the new bus station generated.
"All of the responses received have been carefully considered and as a result of the feedback the plans were adapted before being submitted to Wigan Council."
Funding for the Wigan Bus Station development is being supported by central government through the Greater Manchester Local Growth Deal programme.
Subject to planning permission being granted, the intention would be for work to start on site in 2017 with the new station being open for use by the end of 2018.