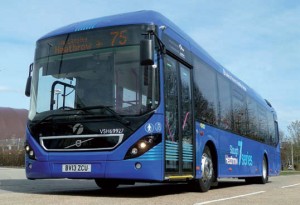 Stagecoach Manchester to gain 38 of the 213 new vehicles, while Reading Buses considers converting whole single-decker fleet to gas
Norman Baker has announced £12m of funding for the fourth round of the GBF which will provide 213 new low carbon buses.
In total, four rounds of the fund, worth £87m, will have delivered more than 1,200 new vehicles in England, saving around 28,000 tonnes of CO2 emissions per year.
The Government is paying up to half the cost difference between diesel-hybrid and biomethane gas buses and their standard diesel equivalent.
The successful bidders are:
City of York Council – two fully-electric single-deckers;
Courtney Coaches – two diesel-hybrid double-deckers;
First Berkshire – five diesel-hybrid single-deckers;
First York – six fully-electric single-deckers;
Nottingham City Council – 15 fully-electric single-deckers;
Reading Transport Limited – 14 biomethane gas singledeckers;
Selwyns Travel Limited – six diesel-hybrid single-deckers;
Stagecoach Manchester – 38 diesel-hybrid double-deckers;
Stagecoach North East – 17 biomethane gas single-deckers;
Transport for Greater Manchester – three fullyelectric and 10 diesel-hybrid singledeckers;
TfL – four fully-electric singledeckers and 90 diesel-hybrid double-deckers;
Yorkshire Coastliner Limited – one fully-electric singledecker bus.
The manufacturers which stand to benefit are Alexander Dennis Limited, BYD, Optare, Scania and Volvo.
Baker said: "The last three rounds of the GBF have shown that bus operators and local authorities are keen to invest in environmentally friendly technology, and it is encouraging to see this strong interest in ultra low emission vehicles continuing through the fourth round.
"I'm glad these new technologies are breaking through into the mainstream. This further strengthens the case for operators in the UK to invest in ultra low emission technologies and achieve a step change in cutting carbon."
Robert Montgomery, MD of Stagecoach UK Bus, said: "Stagecoach is already the leading bus operator investor in lowcarbon hybrid electric buses in the UK, with more than 230 in service across the country. These have been manufactured in the UK, helping support British jobs.
"We are delighted to have received support funding from the latest round of the GBF. It helps meet the £100,000 gap between the cost of a standard bus and those equipped with hybrid electric technology. "The new hybrid electric buses for Manchester will mean we will run the biggest fleet of buses using this technology in any city in the UK outside London.
"We are also pleased our customers in Sunderland will benefit from new biomethane gas buses, which will have lower carbon emissions and help deliver a better living environment for local people. "Sustainability is at the heart of our business and buses play a vital role in supporting the economy, keeping communities connected and meeting the country's environmental challenges. We are committed to investing in cleaner, greener vehicles for our passengers and reducing our own carbon footprint as a business."
James Freeman, CEO of Reading Buses, said: "We have the potential to buy 14 new gas buses which would increase our gas bus fleet to 34. Reading Buses would then have the biggest fleet of gas buses in the country.
"If the decision is made to go ahead – and I can't at this early stage commit us to doing so – we would sell off the remainder of our single deck diesel buses.
"This would mean our entire single deck operation would be gas powered with so many environmental and efficiency benefits."
Cllr Andrew Fender, Chairman of the TfGM Committee, said: "This is fantastic news and yet another example of our determination to lower the impact transport has on our environment.
"Yet again, Greater Manchester (GM) sits head and shoulders above its contemporaries, second only to the nation's capital when it comes to the number of green buses running on our roads.
"The challenge is to ensure journeys can continue to be made in a way which is better for the environment – and these vehicles will play a significant part in achieving precisely this."