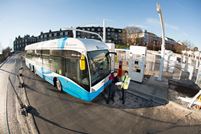 The £21m Aberdeen Hydrogen Bus Project marked its first anniversary of operations on Friday, March 11.
The project has seen Europe's largest fuel cell bus fleet operate in the city. In the first year, the fleet has travelled 250,000 miles.
The Van Hool vehicles have carried more than 440,000 passengers on the First X40 Bridge of Don to Kingswells Park & Ride and Stagecoach X17 Guild Street to Westhill Park & Ride route, as well as putting in appearances at a number of high-profile transnational events in the city.
The hydrogen production and refuelling station, which is owned and operated by BOC, has refuelled the vehicles more than 1,600 times.
The station, which has already dispensed more than 40 tonnes of hydrogen, is now being converted to allow the refuelling of fuel cell vans and cars, as well as buses.
Cllr Barney Crockett, Aberdeen City Council's Lead Member for Hydrogen, said: "The Aberdeen Hydrogen Bus Project has been a great success story for Aberdeen and all of the partners and funders involved in it.
"In the space of just a year since we moved into the operational phase, the project has outperformed expectations. It's been very well received by the bus drivers and members of the public, and has created a real buzz about the city's hydrogen capabilities.
"On the strength of the project, we've managed to introduce other hydrogen vehicles to Aberdeen and have successfully cemented our position as a leading hydrogen city."
Steve Walker, Managing Director for Stagecoach North Scotland, said: "Reaching the first year of operation is a huge milestone for the Aberdeen Hydrogen Bus Project.
"We are really pleased with how the vehicles are performing on the road and we have had a significant amount of positive feedback from our passengers on the quality of the buses.
"We are looking forward to the next year of operating the hydrogen powered vehicles."