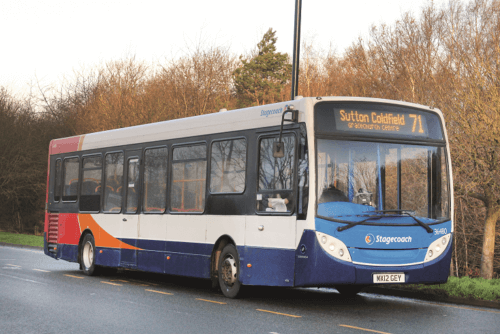 A total of 26 bus services in the West Midlands that had been threatened with withdrawal are to be saved following a review, though others will be withdrawn as Transport for West Midlands was unable to find sufficient funding to allow them to continue. The services were among 39 which were placed at risk due to rising costs following increases in fuel prices, driver shortages and reduced passenger numbers since the Covid-19 pandemic, but have been given a reprieve following allocation of funding by Transport for West Midlands (TfWM). Despite an £800,000 increase in its annual subsidy – taking its total budget to £16.3 million – TfWM said it was unable to fully fund the 117 bus service contracts due for renewal at the end of December 2022, so 39 were placed at risk and subject to a six-week review.
Of these approximately 26 have now been saved; the remaining 13 services ceased operation at the end of the year. TfWM said it considered which services delivered the most benefit for passengers and considered passenger numbers, value for money for the taxpayer and alternative services available in the area. While many routes will be retained as they are, some will have routes or timetables altered.
TfWM's Director of Integrated Transport Services Pete Bond said: "Bus services are the backbone of our transport network carrying around 80% of public transport journeys in the region. But the environment for bus operators is highly challenging right now so some difficult decisions have had to be made. We were, by making the most use of funding available, able to save the majority of at risk services and keep the disruption to a minimum.
"But this unfortunately means that some people will have lost their local bus service, but I would urge them to check the TfWM website and journey planner to see what alternatives are available. There is still some good news for travellers on the bus network, including the fare freeze agreed with operators to keep fares at the current levels until 2025 – this is already protecting passengers from cost of living rises we are seeing elsewhere meaning the West Midlands has some of the lowest fares across England.
"In the medium term we are also planning further investment in bus priority lanes and cross-city services. These are all designed to make bus a more attractive, affordable and convenient alternative to the car – such as on the A45 where Sprint bus lanes are already cutting journey times and improving reliability of timetables."
A number of contracts have been awarded to Diamond Bus and Kev's Coaches, but of particular note is a number of tender gains by Stagecoach Midlands, which is of interest as in recent years it has not operated in or around Birmingham, with the exception of its X20 to Solihull which was gained in 2022 along with other contracts in the Stratford-upon-Avon area. The tender gains mean that Stagecoach buses will now be seen in areas such as Acocks Green, Chelmsley Wood, Kings Heath and Sutton Coldfield.