Northern Ireland's public transport operator, Translink, is taking delivery of a fleet of tri-axle Volvo B11R coaches with Sunsundegui SC5 bodywork for a range of services, including to and from Dublin airport. Finished in Translink's new Goldline colours, the 30 vehicles will be based at locations in Belfast, Coleraine, Londonderry and Newry, with some of their first work being at the Open Golf Championship at Royal Portrush.
Built to Translink's specification, the 430hp, 14.3-metre vehicles have 63 leather seats with seat-back USB ports, WiFi and a 10-camera CCTV system. Space for one wheelchair user is accessed via a side-mounted wheelchair lift. The order follows a number of orders for Volvo buses and coaches throughout 2014, 2017 and 2018.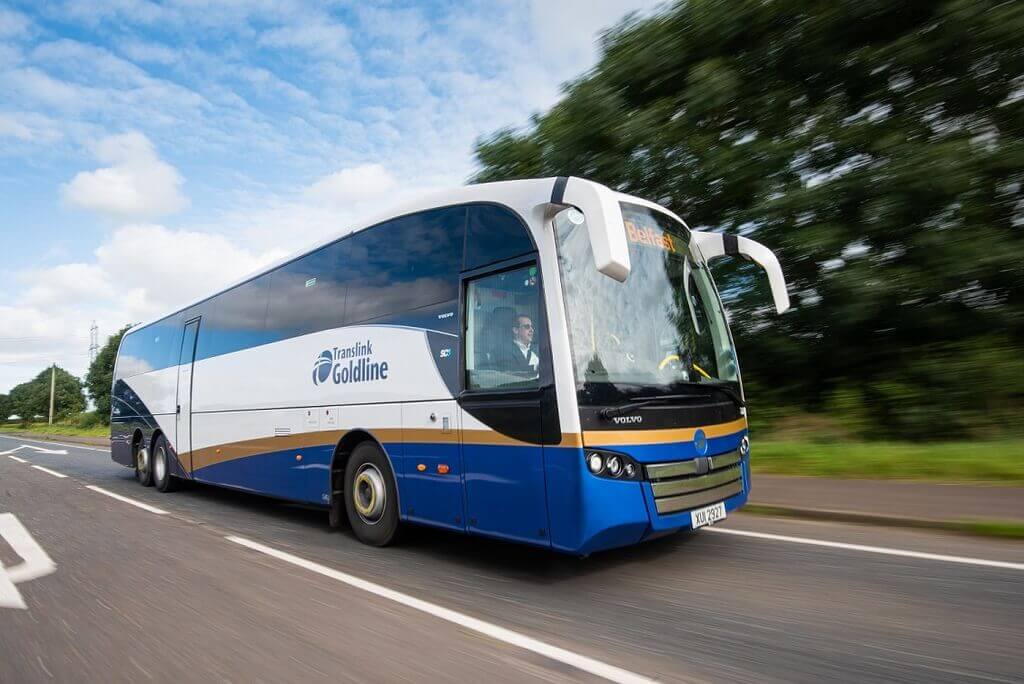 Will Campbell, Project Manager for Fleet Enhancements for Translink, said: "We needed a premium coach with added comfort for longer journeys that would also provide the high passenger capacity we needed, which was why we went for the 14.3m SC5 with 63 seats. Wheelchair access and capacity was also important for the services we offer. Like any bus and coach operator, fuel economy is particularly important to us and the predicted fuel savings that the B11R offers was one of the key reasons why Translink placed this order with Volvo. We have received a very positive reaction to the new coaches from our passengers and drivers alike, which is always pleasing.
"Aftersales service and support is also important for our business to ensure that our vehicles are in the best possible operational order with maximum uptime and we have an excellent working relationship with Dennisons, using their various dealer points across Northern Ireland."
Richard Mann, Volvo Retail Bus & Coach Sales Manager, added: "It has been great to be working with Translink again on this significant order. They are one of our most loyal customers and we are confident the B11R chassis will provide the reliability and fuel efficiency they seek. We hope to be working with them again in the future."