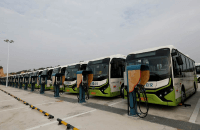 CHINA Shanwei in Guangdong Province is gradually introducing 300 BYD (Build Your Dreams) K7 eight-metre electric midibuses. The city administration held a ceremony to celebrate the initiative and welcome the green buses.
In response to the Chinese central and Guangdong Province governments which want to boost development of 'new energy' vehicles, Shanwei has undertaken a series of sustainable transportation initiatives, chiefly with the remit of public transit integration (vehicles with a 0 to 50km range) and transit network development.
Last September, the city government along with Guangdong Yueyun Transportation Company and BYD signed a strategic cooperation framework agreement for new energy vehicle application and promotion. The Shanwei government is currently building an EV (electric vehicle) manufacturing base and developing the supply chain to support it. BYD's new energy vehicle fleet will be essential for the administration to achieve its sustainable economic growth targets.
According to the city government, 1,810 electric buses will be put into service by the end of 2017. Additionally, 1,200 six to eight-metre new energy buses will be introduced as short-distance transit vehicles in urban areas and shuttle buses in suburban areas between 2017 and 2019. The BYD K7 is ideal for the 1,200 order. By 2019, Shanwei will have 3,010 electric buses in operation. It is the first city in China where there's large-scale use of the K7. The city of Wuhan will also introduce 74 K7. According to the administration, in 2016 Shanwei will meet Guangdong Province's requirement that there must be at least eight public transit buses for every 10,000 people.
The BYD K7 seats up to 23 and uses the manufacturer's proprietary Iron-Phosphate batteries giving it a range of up to 240km on a single charge. The battery packs are placed on the roof and under floor making the vehicle quite spacious inside. It also features in-wheel electric motors that save a lot in terms of maintenance costs, says BYD. There's also a one-button-start system and continuously variable transmission. The model is ideal for urban transit or as an airport shuttle. BYD's electrified public transport vehicles are already in operation in over 160 cities in more than 40 countries.