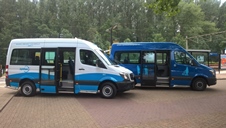 HOLLAND VDL Bus & Coach has delivered 35 minibuses to Syntus for operation in the provinces of Overijssel and Gelderland. 10 are destined for Midden-Overijssel and 25 vehicles for Veluwe. Syntus places considerable importance on quality and has decided to replace all the mini buses it was operating at these locations at the same time.
The buses are based on the Mercedes-Benz Sprinter. Uniquely for bus like this in Holland, the entry door is located behind the B-pillar. All 35 have eight passenger's seats and one driver's seat and their compact dimensions make them highly manoeuvrable.
Syntus B.V. provides public transport in the Veluwe, Gelderland, Midden-Overijssel and Twente. That includes 376 buses and nine trains. It is a 100% subsidiary of France-based international public transport operator Keolis and employs 1,300 people at 15 locations. Around 97m passenger-kilometres are provided per year.