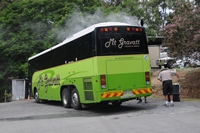 AUSTRALIA Mt Gravatt Coach & Travel of Brisbane is celebrating more than a century of operation. It started as a horse drawn bus service and after five changes of ownership, introduced the first motorised vehicle in the 1920s with a Ford Model T. The operation held a celebratory morning tea reception recently to mark its long history with guests including former owner Alan Howatson who is 93.
Alan's father Fred Howatson bought the company in 1923. Alan became a partner in 1946 and after his father's death in 1952 he grew the fleet to seven buses by 1978. In 1981 Delcie and Les Cole, owners of Burbank Busways, took over and grow the organisation to 39 buses and coaches and 58 staff.
Mt Gravatt's General Manager, Rob Brooker credits the family-based company ethos of treating each and every passenger with the same consideration and care they would give to their loved ones as the secret to it reaching this milestone.
"I recently travelled on one of our school runs and the driver greeted every one of the 40+ students by name," he said. "I believe this demonstrates just how much our staff really care about each and every passenger that boards a Mt Gravatt Bus."
He added that the company's history is preserved in the book "Mt Gravatt, then and now" which was prepared and released by the Mt Gravatt District Historical Society in 2007.
In addition to a Translink 3G contract, the Mt Gravatt group of companies also operates school, senior and commercial charters as well as transport services for special events such as the Sirromet Day on the Green, the Cancer Council ride and walk fundraisers, the Mt Coot-tha Classic car races and is the preferred supplier for Queensland Fire and Emergency Services. The operator is now looking to acquire some additional vehicles to keep up with growing demand.
"It's fair to say that little is achieved without hard work and tenacity and it is the people who make a company great," said Rob. "On behalf of Del and myself, I'd like to sincerely thank our suppliers, our supporters, our clients and especially to each and every one of our staff whose professionalism and honest hard work continue to enhance our reputation within the industry and with the passengers we are so proud to carry."