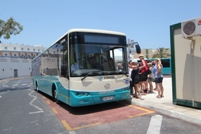 MALTA Thirty-six buses are to be added to the existing Arriva fleet in Malta following an agreement between the Transport Ministry, Transport Malta and Arriva.
In a statement, the ministry said the government's decision to change the route network, introduce new routes and increase frequencies on some of them, as well as a greater number of commuters, led to more buses being needed.
The increase, it said, should meet the demand of passengers on certain popular routes during the morning rush hour.
The first eight buses were due to enter service on Monday, October 31, with the rest gradually introduced before the end of November.
The ministry said 17 of the 36 new buses will be articulated. Arriva confirmed to CBW refurbished ex-London Mercedes-Benz Citaros, each capable of taking up to 150 passengers. The remainder will be 12 metre vehicles borrowed from various divisions of Arriva in the UK.
The transport ministry stated that, to avoid delays in the vehicles implementation, the government will temporarily suspend the aesthetic and equipment requirements of buses resulting in a short period where some buses will not have the official Arriva colours and will lack air conditioning. Engines will be between Euro III and IV instead of Euro V, which is the fleet standard, although all specifications will be met by May.
In the meantime, the operator is to continue employing and training drivers.
Transport Malta and Arriva are also discussing measures for buses to be given priority on Maltese roads as traffic congestion was creating schedule difficulties.