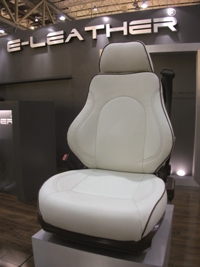 USA Peterborough-based E-Leather enjoyed a successful debut at the recent APTA (American Public Transportation Association) trade fair in New Orleans, launching the firm's eco-friendly product into the US market.
Both driver and passengers seats were on display, supplied by Michigan-based manufacturer USSC Seating.
E-Leather's sales and marketing director Nico Den Ouden was extremely delighted with the reception from the visitors to the show. "The interest in our product was much more than we could have expected on our first appearance," reported Nico, "Environmentally friendly products are being very well received in the US transport market and coupled with the light weight and high durability of our material, we are confident that we have the key ingredients to grow our business in North America."
The show itself centred on the mass transit industry of North America and attracted exhibitors from the bus tram and rail sectors with over 17,000 visitors expected during the three days.
E-Leather's is no stranger to the US however, for it's products are used extensively in the US aviation industry, where weight is critical.
E-Leather is an eco-friendly, lightweight and scuff resistant man made alternative to traditional leather. The cost-effective material is made from recycled wet blue, which has been discarded by the leather industry. It is then upgraded in a patented process utilising eco friendly technology that physically interlinks the fibres without the use of adhesives. The end result is composition leather, a man-made material which outperforms traditional leather in most end use scenarios. The eco credentials of E-Leather, its high performance levels, low cutting wastage, weight saving and ease of cleaning  increasingly make it the material of choice for upholstery. Visit www.eleathergroup.com .