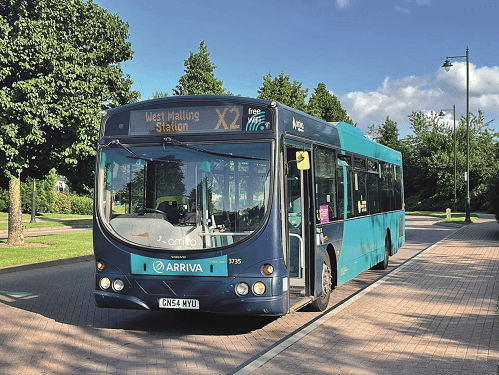 Routes in Kent are among the latest to suffer as councils cut back on public transport spending
Some long-standing bus services, were either cancelled or reduced in Kent in early February. The services involved included trunk and once-per-week shopper services as well as some school bus services. A statement from Kent County Council (KCC) said: "The financial support of public bus services is a discretionary activity and for this reason, as pressure on local government finances have increased, a number of authorities have reduced or stopped funding buses completely.
"KCC has continued to fund bus services and currently spends around £6m per year on this activity. However, as the costs of providing statutory services have increased, in order to set a balanced budget, the Council has needed to save money in other areas and from the 2022/23 financial year, the budget for the support of public bus services is being reduced by £2.2m."
As a result, the council said it had no choice but to remove the subsidy which supports the operation of around 40 services. The statement continued: "With the Council unable to support all of its existing bus service contracts, this also means that we cannot intervene to save those being stopped by operators as the number of services involved would cost millions to sustain. In the absence of being able to directly protect existing services, public transport officers will continue to work with all operators to explore the potential for some to take on routes being cancelled by other providers but this is unlikely to provide cover for the many of the cancellations given the prevailing commercial conditions.
"KCC will also work with communities, parents and schools to support them if there is an appetite to fund and coordinate local solutions and the department is making available community transport funding for things like vehicles for this purpose.
"Children who have a legal entitlement to free transport to school will be provided with alternative transport solutions but for other passengers it is likely that no alternative transport will be available."
Local Councillor Stuart Jeffery voiced his opposition, telling KentOnline: "This is yet another blow to our much needed public transport services and one that has been engineered by local and national government. We have a climate crisis, a cost of living crisis and a transport crisis. Public transport should be a significant part of mitigating these crises yet government at all levels not only refuses to support our bus services but they are actively undermining them.
"Maidstone Borough Council urgently needs a forum with local bus operators and KCC to formulate a real plan to improve and sustain our buses. Keeping eyes closed and ears covered will just lead to more cuts."
A KCC spokesperson responded: "Service changes relating to a reduction in KCC's supported bus budget for the 2022/23 financial year took place last weekend. Other changes are being made by operators in response to the continued challenge of increased costs and the reduced use of buses after the pandemic. KCC's budget for bus service support has been protected at the same level for the 2023/24 financial year and we hope that this will enable us to continue to support our contracted services."
The council said that it is continuing to invest over £30 million in support of Kent's bus network and its users, including subsidy for over 80 other routes, subsidising the costs of bus travel for students through the Kent Travel Saver and 16+ schemes, and supporting free travel for elderly and disabled bus users.