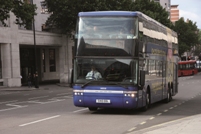 Belgian coach builder boosted by Stagecoach order
Stagecoach Group last week announced a £44m investment in a fleet of 106 new double-decker coaches for its budget coach service megabus.com – most bound for North America and the remainder for the UK.
The order has been placed with Belgian manufacturer Van Hool which is also building coaches for the Souter Investments-owned PolskiBus.com – an intercity express coach business in Poland serving the country's biggest cities and four European capitals.
The new order is for 13-metre coaches, which will meet the latest Euro 5 emissions standards, will be fitted with 81 seats and equipped with a toilet, power sockets, Wi-Fi and CCTV.
£40m will be spent on 95 vehicles for the megabus.com network in the United States and Canada and a £4m fleet of 11 coaches have been ordered for the UK network, which now carries around 3 million passengers a year and links 60 locations across the country.
The UK coaches, which will be delivered between December 2011 and January 2012, will operate on operate on the London to Bristol, London to Cardiff and London- Sheffield-Leeds-Newcastle routes. They will replace 15-metre single deck vehicles currently used on most of these journeys.
Stagecoach chief executive Sir Brian Souter explained the popularity of the low-cost coach services, which started operating in the UK in 2003 and whose fares start from £1, plus 50p booking fee. "The tough economy and rising fuel prices are having a real impact on household living standards and people are looking for ways to save money," said Sir Brian. "megabus. com is the perfect solution to help make people's pound or dollar go further in these difficult times.
"Many of the people we are attracting, particularly in North America, used to travel by car, so the switch to greener coach travel is better for the planet. This latest investment will also mean we can continue to offer a high quality product as well as great value fares and meet the growing demand for low-cost travel in North America and the UK."
Asked why British manufacturers were not selected for the order, Sir Brian correctly pointed out: "They do not make them. They would not have been able to make them in the timescale," it was reported in The Times newspaper.