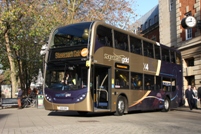 13 new Gold-spec ADL E400 Scanias for flagship service
Stagecoach Midlands unveiled a fleet of premium Gold buses to boost its flagship route through Northamptonshire on Friday.
The operator has invested £1.9m in 13 brand new ADL Enviro 400 Scanias which entered service on Saturday (November 26). The buses will operate on the X4 route, which runs from Peterborough and Milton Keynes via Oundle, Corby, Kettering, Wellingborough and Northampton. Passengers can now enjoy the comfort provided by Lazzerini seats covered in Peterboroughmanufactured E-leather seats and free on-board Wi-Fi.
The new fleet will be based at Stagecoach's Kettering depot, which conveniently marks the halfway point on the X4 route. The new buses will replace 08-plate ADL Enviro 400-bodied MANs, which have been moved on to the X46 and X47 routes between Thrapston, Raunds, Wellingborough and Northampton.
Steve Burd, Stagecoach Midlands managing director, said it was important to continue investment despite uncertain economic times, especially since the route has seen a 7% increase in use in the last two years.
Mr Burd said: "These buses are really going to stand out on the roads. The reason we chose the X4 service is because it is one of our core routes in the county which is very successful.
"We took over the route 11 years ago and doubled passenger numbers by 2004. Times are tough but this investment is necessary. If you put off investing you just cause more problems in the future. We will need to get a few extra passengers to make our money back."
Chris Wragg, team leader for transport planning at Northamptonshire County Council, said: "It's great to see Stagecoach Midlands is continuing to invest in its services even in these hard economic times. It is helping us to achieve what the transport system needs in Northamptonshire."
The introduction of the buses takes Stagecoach Midlands' investment in the past year to beyond £5m.
According to Stagecoach, the X4 can trace its roots back to the mid 1980s when two longdistance cross-country routes were operated. The two-hourly X64 linked Corby with Northampton and Birmingham, while the X65 connected Peterborough with Corby, Kettering and Northampton. At the dawn of the new Millennium, Stagecoach replaced the two routes with the commercially-operated X4. In 2010 the route benefitted from investment in low floor buses when ADL E400-bodied MANs replaced Alexander Olympians, which led to a patronage growth of 7%. Stagecoach said passenger numbers continue to rise.
"Stagecoach believes if a route is successful, it's vital to invest and encourage growth. This investment forms part of our attempt to further increase ridership on the X4," added Mr Burd.