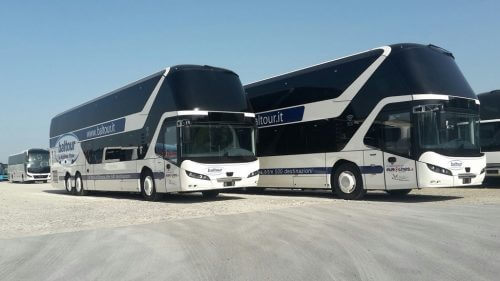 Baltour Group takes delivery of 5,000th Neoplan Skyliner in model's 50th anniversary year
ITALY The 5,000th Neoplan Skyliner has been delivered to Baltour Group of Teramo in Italy. It's one of seven Skyliners delivered to the operator this year along with four Cityliners. Executive Plus seats with centre armrests have been specified and all 64 have foot rests as well.
Baltour operates 93 vehicles, 66 of them MANs and Neoplans. The fleet has covered 1.4m km over the past four years and as well as connecting 17 Italian regions, visits over 500 destinations in 23 European countries. Four million passengers are carried annually.
"Baltour has been buying all their buses from MAN for around 20 years now – well in excess of 100 vehicles already," said Franco Pedrotti, Head of Sales for MAN Truck & Bus Italy. "And now its fleet also has the anniversary Skyliner. We are as pleased about it as they are."
The Skyliner is powered by a 500hp diesel engine. Numerous assistance systems include the electronic stability program (ESP), adaptive cruise control (ACC), an emergency brake assist (EBA) and the topography-based MAN EfficientCruise, which includes the EfficientRoll "rolling function," and light and rain sensors.
For extra safety, especially on long stretches of road, the MAN LGS (Lane Guard System) and the attentiveness assistant stand ready: MAN AttentionGuard is designed to minimise the risk of an accident by recognising the first signs of fatigue or loss of concentration and warning the driver.
"In long distance coach travel in particular, there can be long stretches of monotonous driving during which the driver becomes fatigued and their concentration lapses," Franco added.
"MAN AttentionGuard helps to prevent dangerous situations."