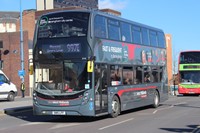 Premium-specification ADL E400 MMCs ordered for upgraded high-profile routes in the Black Country and Birmingham
National Express West Midlands (NXWM) has ordered 65 premium standard Platinum-specification ADL Enviro400 MMCs to upgrade key bus routes – which for the first time, will include those operating in the Black Country.
The £15m investment will see 65 of the two-tone grey-liveried buses enter service this summer. The principal beneficiaries will be the high-profile route 126, which links Wolverhampton to Birmingham, via Roseville, Dudley and Bearwood – and the 529 Wolverhampton to Walsall, via Willenhall and Bentley. The upgrading of the 126 to Euro 6 vehicles will also assist NXWM's contribution to Birmingham's Clean Air Zone, which will take effect from 2020.
Since the brand's launch in May 2015, NXWM has invested £34m in 58 Platinum-specification buses, which include free WiFi, extra leg room and high-backed seats.
The buses, all of which are ADL Enviro400 MMCs, currently operate on routes 900, 957, X51, 997, 934, 935, 936 and 937 across Birmingham, Solihull, Coventry and Walsall.
NXWM's investment appears to be paying dividends in terms of both ridership and passenger satisfaction, with a recent survey showing users are hugely impressed with the new vehicles. Overall satisfaction across all the Platinum routes was 94%. 98% were satisfied with the comfort they experienced on the bus, and 96% said they were happy with the standard of driving – and 81% of those questioned found the services good value for money.
Peter Coates, Managing Director of NXWM said: "We've been running the Platinums since May last year, and we're seeing more people making more trips on them. The X51 from Birmingham to Walsall has seen 25% growth and there's been 10% growth on services to Birmingham International.
"So this year, we're investing £15m to make sure that people right across the Black Country will benefit from these excellent new buses."
Cllr Keith Linnecor, a member of the West Midland's Integrated Transport Authority's delivery committee, is a bus champion for the 997 route in his ward of Old Oscott in north Birmingham. Bus champions are volunteers who monitor a scheme run by Centro to help identify ways of further improving the network.
Cllr Linnecor said: "I am delighted these superb vehicles are to be expanded across the West Midlands. Bus travel is sometimes criticised as being dirty and uncomfortable, which is just not the case. The standards on the Platinum service are superb and a great inventive for people to use public transport."