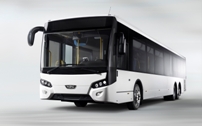 The order from Arriva is one of the largest in VDL's history
SWEDEN Arriva has signed a contract with VDL Bus & Coach for the delivery of 77 Low Entry Citea XLEs for operation in Stockholm. The order is the largest in VDL's history for buses in the Swedish market. In addition, VDL has received an order to refurbish 85 articulated buses.
The new Citeas are due to enter service in January 2013. Half of the articulated buses, which include Mercedes-Benz Citaros, will enter service in August 2012 and the other half as of January 2013.
The order for Arriva consists of 21 13.7m Citea XLE-137s and 56 14.5m Citeas XLE-145s. These will be constructed as class 2 buses and are scheduled for use in the greater Stockholm area.
Rémi Henkemans, Managing Director at VDL Bus & Coach, said: "This new, large order once again confirms our strategy for lightweight concepts, with a focus on the European public transport segment. Our Citea range, with the SLF as Bus of the Year 2011, demonstrates our public transport buses are in the top tier in Europe. We are especially proud our knowledge and skill in this field is recognised by more and more passenger transport companies.
"Futhermore, the order for 77 new Citeas in combination with the conversion order for 85 articulated buses is also a fine example of 'Strength through co-operation'. After all, the articulated buses to be converted come from Arriva in the Netherlands. With the modifications we carry out, these buses will be perfectly suited for public transport in Stockholm. In this manner both Arriva and VDL demonstrate the benefits offered by larger international companies and the strength of true co-operation."