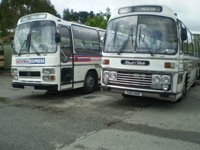 On May 6, 2012 Roselyn Coaches will be hosting its second Open Day at Middleway Garage, Par.
The event is free, with collections being made throughout the day. All proceeds are being donated to Mount Edgcumbe Hospice.
Attractions include free scenic tours running throughout the day of Fowey, Charlestown and the St Austell area in two open top buses. Around 20 invited classic coaches and buses will also be on display accompanied by a variety of stalls, stands and souvenirs with the Westerners Concert Band booked to provide musical accompaniment.
The Cornish firm's last open day was held in 2010. Mike Heppell, Human Resources Manager, told CBW: "The last open day two years ago was fantastic, I could have slept for a week afterwards.
"We decided to have a break and it'll be good this year, definitely as good as the last one."
Mike will be a conductor on the tour buses this year, complete with authentic old fashioned ticket machine.
"We will all be out and about and we will pray for the weather," he added.