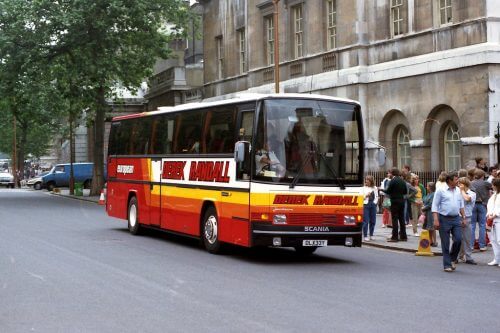 Bob Nevitt retires from Scania on April 5 after four decades in coaching. As he explains to Andy Izatt, working in the industry has not only brought him enormous pleasure and satisfaction, he's got to know some wonderful people
"I've really enjoyed working for Scania for the past 24 years," said Bob Nevitt, Scania (GB)'s General Manager Customer Support. "It's a great company that's very conscientious about looking after its employees, but it's important to know when the time has come to move on. The technology, the systems, the way the industry is – it just doesn't feel like it used to and for me, that moment has come."
Ambition nurtured
"I clearly remember the moment I decided I wanted to be a coach driver," Bob continued. "I must have been about five years old at the time and I was on my knees in church supposedly praying but actually dreaming of driving a coach.
"We lived in Birmingham. Our Dad didn't have a car, but every month he would purchase tickets at the newsagents so we as a family could go on a day out with Stockland Green Coaches of Erdington. In those days it would be a reason to dress up and I would be in my best short trousers, long socks and shiny shoes. We were one of the first pick ups and I used to love boarding through the centre door in the hope of being able to sit at the front next to the driver who would be dressed in a white coat and have his thrupenny bit hat on. It was just another world."
Bob continued to nurture an ambition to be a coach driver and after a few years 'on the spanners' in the motor industry, achieved his ambition to obtain his PSV licence in the late 1970s. He worked for two coach operators in the southeast, but having enjoyed driving a couple of tours abroad, was bitten by that 'bug'.
"Derek Randall was the place for European work," he said. "When I was sent an application form, I was also sent a brochure with a picture on the front cover of the Tottenham Hotspur football team standing in front of a DAF Jonckheere Bermuda. I thought I'll have some of that. The coach I was to be allocated was a Jonckheere P50-bodied Scania K112, which was brilliant and it marked the beginning of my long association with Scania.
"When I first started at Randall's I was second driver to a guy called Alec Mutter who had the first of that batch of Scanias. In those days the nearest Scania agent was in Milton Keynes so that's where it had to be taken for servicing. My first time driving it was on the journey back to London and I'd never driven a coach with so much power and torque before."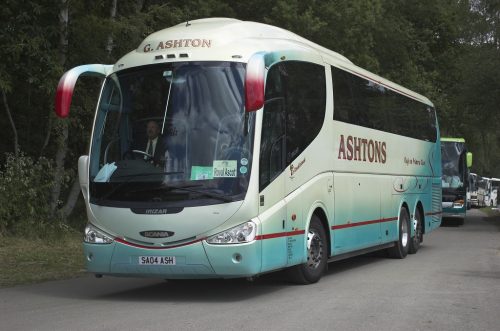 People to remember
Bob's driving career continued to be London-based until he moved back to the West Midlands to work for tour company, Hoverland Travel. He was there for four years and thoroughly enjoyed the experience of being on the 'other side of the fence.'
"It was 1993 and I and a couple of friends went to the annual industry trade show at the NEC (National Exhibition Centre). It was the year that Scania Bus & Coach launched the Irizar Century and I knew a guy who worked there, Paul Chapman (now Scania (GB) Product Manager – Bus & Coach) who introduced me to Sales Manager, Ian Hall who was looking for a salesman. I'd never sold anything in my life, but we had a chat. I was then interviewed by Ian and Managing Director Don MacIntosh at Worksop and I started on January 4, 1994. I had to pinch myself. I couldn't believe my luck. […]
By subscribing you will benefit from:
Operator & Supplier Profiles
Face-to-Face Interviews
Lastest News
Test Drives and Reviews
Legal Updates
Route Focus
Industry Insider Opinions
Passenger Perspective
Vehicle Launches
and much more!