London's latest clocks a number of 'firsts' & is expected to be trialled on route Go-Ahead London's X68 route this Summer
London is to trial a tri-axle low-floor double-decker bus, which boasts a number of 'firsts' in terms of in innovations on a service bus in the capital.
Manufactured in China by BCI, the bus marks the latest development in the range imported into the UK by Purfleet-based operator-dealer Ensignbus (EBC). Called the Enterprise 2HD, it has been developed for London in collaboration with Transport for London (TfL) and thus incorporates many of the transport authority's innovative ideas.
The vehicle is believed to be UK's inaugural tri-axle low-floor hybrid double-decker bus to be fitted with full air-conditioning – for the saloon and cab alike. In the event of failure or in an emergency, the hopper windows can be opened using a t-key. They will however, normally be locked shut.
The bus is also equipped with occupancy indicators, with displays in the cab and at the bottom of the staircase showing the number of free seats available.
Manufactured by Lazzerini, the seats, which are covered in special TfL moquette, include integrated bus stop bells, USB power points and mobile phone holders at the rear. The seats upstairs are angled towards the windows rather than the aisle.
While the bus offers a total capacity for 130 passengers, 55 passengers can be seated on the upper deck and 23 on lower deck, which includes a large wheelchair area and a separate bay for two buggies.
Another milestone is the fact that it's the first new bus to be fitted with a Vantage Power hybrid drive system, matched to a 185bhp Cummins Euro 6 diesel engine.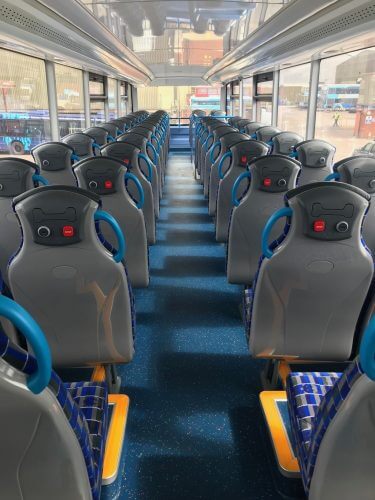 Built on a stainless steel chassis, the 12.5m-long bus includes a rear steer axle as on the diesel variants operated by EBC for its private hire and rail replacement work. A notable difference however, is that the rearmost axle is a Hande axle with motors on each wheel, an arrangement similar to that found on London Underground trainsets.
CBW understands the destination board is also set to break new ground – further details of which are expected to be revealed in the coming weeks.
The bus has been acquired by Go-Ahead London. CBW understands it's going to Camberwell Garage for initial use on limited stop route X68, which links Croydon, Thornton Heath, Upper Norwood and West Norwood, then runs non-stop-to Waterloo, Holborn and Russell Square. The vehicle is expected to enter traffic this Summer. Described as a 'pilot vehicle,' if successful, further tri-axle low-floor double-deckers could follow for London.
Peter Newman, Chairman at Ensignbus, the Purfleet-based dealership that imports the Chinese-made range, told CBW: "This bus has been developed for London in collaboration with TfL, incorporating many of their innovative ideas. It's a pilot vehicle to examine its potential for service routes with London Buses."
Having arrived at EBC's premises on April 4, the bus is expected to be certified on April 10, before going to Vantage Power for three weeks.