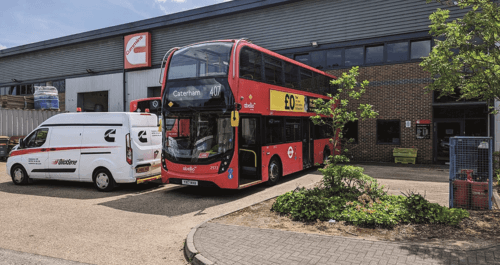 A comprehensive service agreement between Cummins and Abellio London is proving its worth not just for both companies but for travellers who between them take millions of journeys each year, the companies say. The agreement is centred on improving the reliability and efficiency of Abellio London's 560-strong fleet of Cummins-powered Alexander Dennis buses which make up the bulk of its total fleet of around 800 operating in the west, south-west and central areas of the capital.
Since it has been in place, Abellio says the service agreement has helped it gain a firmer grip on budgeting and operational planning while reducing performance penalties from Transport for London (TfL) and increasing customer satisfaction. The Cummins team met recently with Abellio London's directors at Hayes – one of six depots it operates in London – to discuss the future of the bus market.
"We agreed that partnerships such as ours are key to unlocking the full potential of existing diesel bus fleets and transitioning toward a more sustainable future," said Janis Krauklis, UK Business Development Manager for On Highway for Cummins. Janis explained that the relationship between Cummins and Abellio London has been in place for six years but entered a new phase in 2021 with the appointment of Chris Remnant as Abellio London's Engineering Director.
"Chris is a strong advocate for the Cummins brand," he said. "He was very receptive to the idea of a service agreement built from scratch, so we set about visiting the depots and talking to people on the front line to find out where things could improve in terms of service and parts supply. Reliability is of extreme importance to Abellio London, its customers and TfL. We offered our expertise with complex repairs and supporting its engineering team with formalised training, as well as upskilling Abellio London's technicians on engine maintenance and best practices."
A key component of the service agreement is the availability of like-for-like replacement engines. Cummins maintains stocks of complete Euro V and Euro VI B4.5 and B6.7 engines built at its factory in Darlington, and replacement is handled entirely by Cummins team of service experts. "Replacing a faithful old Cummins engine with a factory-fresh unit improves fleet performance and uptime and lowers service and maintenance costs," said Janis. "The net result we are always looking to achieve is lowest total cost of ownership for our customers," said Janis.
Chris added: "What we have with Cummins is a true business partnership. We feel that we can trust Cummins to help us improve our service, increase our reliability and customer satisfaction while ensuring that we have the lowest total cost of ownership."