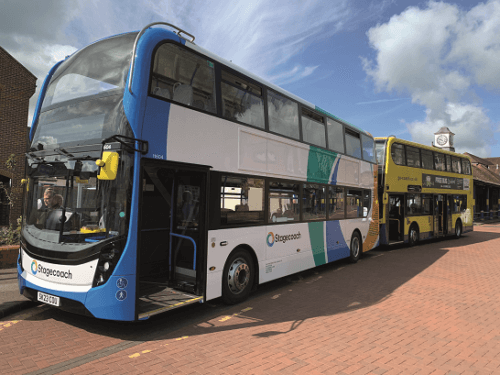 The latest investment to improve bus services in Kent takes the county's total to more than £35 million
Residents across Kent are promised more reliable, punctual and cheaper bus services thanks to over £16 million of new Government funding intended to improve local transport connections and grow the economy. On 21 June, the Department for Transport confirmed that Kent County Council will receive £16.1 million for its bus service improvement plan (BSIP) to improve local bus services, speed up bus journey times and deliver lower fares to help passengers save money on travel.
The move follows the initial Government investment of £19 million, bringing total funding to boost Kent's bus services to over £35 million since 2022. The announcement came ahead of the 'Big Free Bus Weekend' on 24 and 25 June when all bus travel across the county was made free using existing funding.
The £16.1 million will be used to introduce lower fares, improve bus punctuality and reduce journey times. Roads Minister Richard Holden said: "Many people across Kent rely on the bus to get to work and go shopping, attend medical appointments and see friends and family. That is why today we're confirming over £16 million on top of our previous £19 million investment to boost Kent's bus services and help build the modern, reliable and affordable bus network all residents in Kent deserve.
"We've now invested more than £3.5 billion since 2020 to protect bus routes in England and help people 'Get Around for £2' as we leave no stone unturned to level up transport, help people save money on travel and grow the economy."
Kent County Council's Cabinet Member for Highways and Transport David Brazier said: "Better access to local transport helps our communities across Kent to thrive. The additional money from the Department for Transport's bus service improvement plan will make it easier, cheaper and more reliable to get around, thereby boosting our local economy. This gives us an opportunity to develop our relationships with operator firms across the county to ensure people can make easy and sustainable choices when they want to move around Kent, whether that be to learn, work or play."
On top of the Government support to improve local bus services in Kent, has previously received £9.5 million for 32 new electric buses and charging infrastructure from the Zero Emission Bus Regional Areas (ZEBRA) scheme for Kent's Fastrack Bus Rapid Transit system.